7 Best Dropbox Alternatives for Personal Use in 2022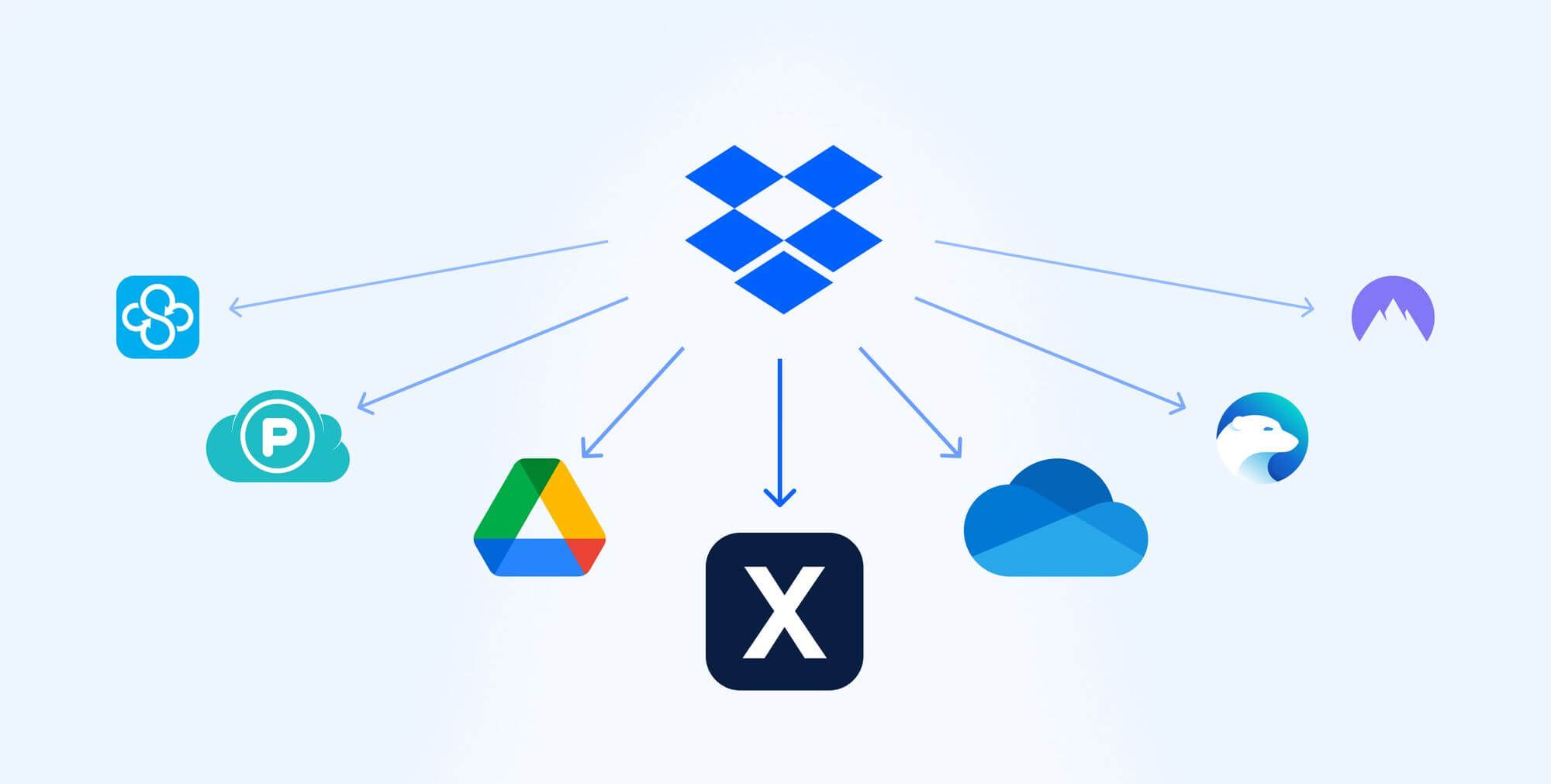 Dropbox for Personal Use
One of the first cloud storage services around, the name Dropbox is synonymous with "uploading data to the cloud".
Though Dropbox is a fine cloud service, its services tend to land on the expensive side. With features like enhanced collaboration features and a mature, clean layout, it's easy to see why so many people originally gravitated to Dropbox.
Gone are the days of one, two, or even 10 cloud storage services. Sure, Dropbox is one of the founding fathers of subscription cloud storage, but in the time since it was invented tons of other, modern cloud services have come online. Which leaves you to question, is Dropbox secure nowadays?
The problem with Dropbox is price and the fact that some features are locked for users valuing lower-priced plans.  The Dropbox file size limit to price ratio leaves a little to be desired. To use all of the Dropbox's features, you're going to need to shell out for a mid-tier or above plan.
It's safe to say there are plenty of other Dropbox alternatives out there, but which one is right for you?
Below we've gathered a list of Dropbox alternative clouds that are all a little easier on the wallet yet still heavy on features:
The Best Dropbox Alternatives
Internxt
The safest Dropbox alternative out there, Internxt is a fully encrypted, open-source, cloud storage service.
By using zero-knowledge blockchain technology and maintaining a rigid user service model, Internxt users' files can only be accessed by the user and their chosen collaborators. That means no first or third-party access to data at all.
Internxt's interface is handsome and sleek and is accessible on all devices and operating systems. They also offer photo-sharing and file transfer services.
Internxt is the best of the affordable Dropbox alternatives for users who value security and privacy above all else.  is Dropbox free to use? Barely but no, not really. But Internxt is!
For example if you're doing freelance voice over work, you'll need a secure service to share large files with your clients. Internxt ensures it will remain encrypted and shared with specified collaborators.
Pro: Built on blockchain with end-to-end encryption, safest and most secure service available.
Con: Lifetime plans will soon no longer be offered.
Pricing:
10GB - Free
20GB - €0.99/month
200GB - €4.49/month
2TB - €9.99//month
Annual and lifetime plans are also available.

Google Drive
Google Drive is the big daddy when it comes to cloud services. Google offers a huge array of different services and they excel and make sure all those services mesh well with one another. With Google Drive you can easily create content, save files, collaborate with your team and many other useful things.
The interface of their Drive service is extremely clean and intuitive to use. Google Drive is also free (up to a certain point) but that means that you forfeit a bit of data privacy, which isn't a great thing when you want to store personal or business files.
While Google has a great ecosystem, you tend to get locked in their services because of just how well they actually do work together. Don't be concerned about transferring your files since you can easily connect Dropbox to Google Sheets for such purposes.
Google is the best option if your major concern is file sharing and collaboration. Just about everyone uses Google service which makes it an extremely popular option.
Pro: Massive ecosystem that excels in file sharing and collaboration.
Con: Large corporation that makes its money selling data.
Pricing:
15GB - Free
100GB - €1.75/month
200GB - €2.65/month
2TB - €8.85/month
Annual plans are also available.
pCloud
A relatively new, Swiss service, pCloud offers a lot of the features you've come to expect from a cloud storage service.
pCloud is pretty affordable and has a free option, though some features are locked behind a paywall. The cloud has a nice automatic backup feature that is super helpful for those users who are a bit forgetful when it comes to preserving work and data.
The interface isn't as friendly as some of the others on this list and it doesn't integrate as seamlessly with other applications across platforms as Dropbox.
pCloud still offers lifetime plans making it a great option for cord-cutters looking to avoid monthly subscriptions and automated payments.
Pro: No monthly payments, annual or lifetime plans only.
Con: Lacking a little in integration and features.
Pricing:
500GB - €49.99/year
2TB - €99.99/year
500GB - €175.00/lifetime
2TB - €350.00/lifetime
Sync.com
Sync.com is another smaller service that prides itself on affordability.
Not as well-rounded compared to others on the list, it works well enough with Windows and macOS and has Office365 integration.
Sync.com has been working to expand its collaboration service and has team accounts with quite a few nifty admin tools. The service has offline access, which isn't as common as you'd think.
Though a bit basic and the interface could use a little work, Sync.com is a simple and affordable alternative to those looking to leave Dropbox.

Pro: Pretty affordable and the service does offer encryption.
Con: Poor third-party integration and non-intuitive interface.
Pricing:
5GB - Free
2TB - €8.00/month
6TB - €24.00/month
Microsoft OneDrive
Another giant in the cloud service industry, Microsoft OneDrive is popular with many users and organizations.
Obviously, OneDrive integrates extremely well with Windows and Office365 and has a very professional interface and presentation. The ecosystem is robust and working between Microsoft applications is a breeze.
Like Google, you will likely get locked into Microsoft services due to functionality and the service prefers Office365 files to others. The service has great photo features and collaboration is seamless.
The free storage is nothing special and it lacks encryption and many other privacy features. The service is reliable and has great support making it a good alternative to DropBox for students, professionals, and people who use a lot of Microsoft Office.
Pro: Very few modern safety features and users have little control of their data.
Con: Syncs seamlessly across Office365 and other Microsoft apps.
Pricing:
5GB - Free
100GB - €1.75/month
1TB with Microsoft 365 - €6.20/month or €62.00/year

Icedrive
Icedrive is an interesting Dropbox alternative thanks to something they call "revolutionary drive mounting software".
Basically, it's a feature that enables your cloud storage to look and feel like a typical hard drive on your computer. This renders some pretty fast upload and download speeds possible and makes Icedrive simple to use.
Icedrive has a modern, attractive design but loses out on its simplicity and few features. Sporting zero-knowledge Twofish encryption, Icedrive is a pretty safe alternative to DropBox and one to keep an eye on as they add more full features.
Pro: Fast uploading and downloading, closest cloud experience to a physical hard drive.
Con: No collaboration features and catered to Windows users.
Pricing:
150GB - €1.83/month
1TB - €4.17/month
5TB - €15.00/month
Nordlocker
Built by your favorite VPN, Nordlocker is another one of the privacy-focused Dropbox alternatives. If you're not completely sure you want to leave Dropbox entirely, Norldocker could be the one for you as it has great integration with Dropbox.
Their Web Access feature allows you to upload data safely without the need for an app, which is great for cross-platform use.
Nordlocker is easy to use and its good-looking platform is intuitive. Its focus is safety and security, everything you upload is encrypted, though the service lacks two-factor authorization making physical theft an issue.
If you're using Nord products already, Nordlocker would be something you would be a good fit for, especially if you value security above other features.
Pro: Good encryption and one of the better free plans around.
Con: No apps and sharing recipients also need to use the service.
Pricing:
3GB - Free
500GB - €3.49/month
2TB - €8.79/month