OneDrive or Google Drive? All About Big Tech's Two Biggest Cloud Services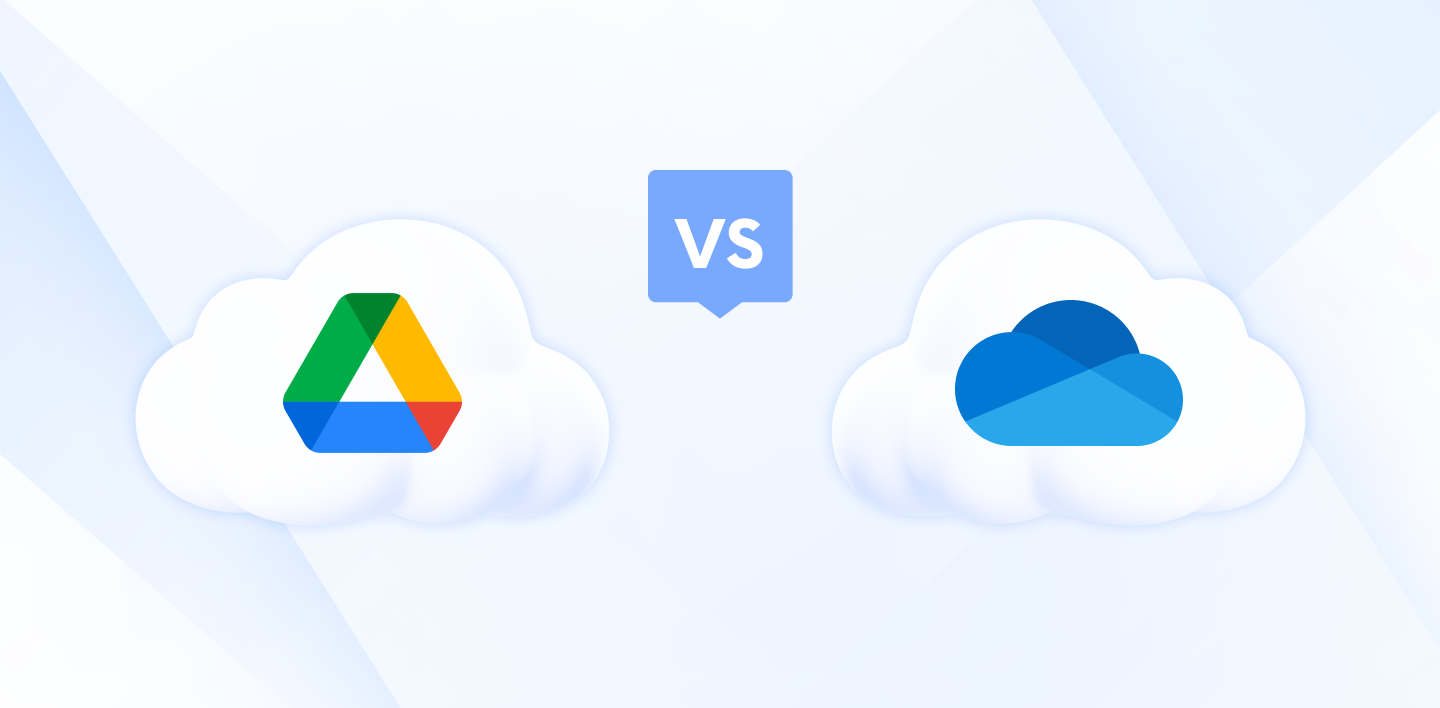 There are many cloud storage services on the market today, but the most popular ones are Google Drive and OneDrive. Without a doubt, they provide numerous benefits, including cost savings, ease of information transmission, and flexible storage, among others.
Both cloud storage systems are powerful and have several advantages for regular work and life. They are very similar and pretty evenly matched, so we understand how difficult it might be to decide which one to primarily utilize.
If you want to access your data from any device and anywhere in the world but aren't sure which cloud storage option to use, this comparison of Google Drive and OneDrive should be interesting.
In this post, we will explain the key selling points and features of Google Drive and OneDrive, as well as how they differ, so you can smartly decide where to store your data.
Let the battle begin—Google Drive vs. OneDrive, may the best cloud win!
What Is OneDrive?
Microsoft OneDrive is a cloud service that allows users to backup, share, access files from any device, and collaborate via other Microsoft Office products.
Microsoft OneDrive is well-liked by many individuals and enterprises. It is also a popular cloud storage service among students. It provides excellent functionality, particularly for those who use Microsoft apps.
OneDrive works really well with Windows and Office365 and has a highly professional interface and presentation.
The environment is broad, and integrating Microsoft apps is simple. The ability of OneDrive to automatically sync information between accounts is excellent, and sharing with other OneDrive users is very easy.
The native installation of OneDrive within Windows makes it incredibly simple to upload and download files from your PC to the OneDrive cloud. Therefore, is a good option for cloud storage.
Its mobile app is available for Android and Apple.
Pricing:
5GB: Free
100GB: €1.75/month
1TB of data storage with Microsoft 365: €6.20/month or €62.00/year
What Is Google Drive?
You might be asking What is Google Drive? Is Google Drive secure?
Google Drive is the most well-known cloud storage service on the market. Many people use it mainly because it is straightforward and its free version is quite generous. Moreover, the service is handy for collaboration and file sharing.
Google Drive bests many other services due to its vast ecosystem, which aids in collaborative activities, making it one of the most simple and user-friendly cloud storage services. Google provides a wide range of services, their Drive service interface is self-explanatory, and they excel at ensuring that all of those services work and operate effectively together.
Also, they have many integrations that add value to their service. For example, they don't have a transfer service, but you can easily connect Dropbox to Google Sheets for this purpose.
Briefly, Google Drive allows you to effortlessly create content, save files, collaborate with your team, and do various other activities.
Their mobile app is available for Android and Apple too.
Pricing:
15GB: Free
100GB: €1.75/month
200GB: €2.65/month
2TB: €8.85/month
What Cloud Is Better? Differences Between OneDrive and Google Drive
As you can see, these two cloud storage services share several features that are quite similar in general.
So you may be wondering, which service should I choose? What are the differences between OneDrive and Google Drive?
In terms of price, OneDrive is better. While Google Drive has more features, Microsoft OneDrive provides better value for money. For example, Google Drive provides 2TB of storage for €9.99, whereas OneDrive offers 6TB of storage packaged with other Office 365 products.
For businesses, if your company is looking to stick to only using cloud-based storage, then Google Drive is what you want to choose. However, if your company wants cloud-based storage that integrates with Windows and Microsoft 365, then OneDrive is the right option.
If you are a student, OneDrive is better because of its many collaboration tools and integrations geared toward education, which are very simple.
If you are a user that's not great with computers and isn't very tech savvy, Google Drive is for you because it is effortless to use. More collaborative options are available and they are more intuitive to operate. Plus, sharing with users who do not have a Microsoft account is more difficult if you use OneDrive. So, if file sharing and collaboration are your primary concerns, Google Drive is your best bet.
To sum up, OneDrive has document scanning, online photo storage, general cloud storage, a protected personal vault, PC folder backup, and sync between Microsoft apps is very easy. However, it lacks privacy, and users have very little control of their data since the service doesn't have many advanced security features.
In the case of Google, it is clearly a massive ecosystem that excels in file sharing and collaboration tools, but they sell users' data making Drive not an overly safe choice.

Choose a More Secure Alternative
Is Google Drive secure? Is One Drive secure? Not really.
OneDrive has a professional interface and presentation but lacks extensive automated encryption, which may jeopardize your privacy because most security protections must be set manually. Same for Google Drive, which should be used with caution and only for collaborative work within their suite.
In general, using these tech giants' services comes with a high cost in terms of privacy. If you care about your data privacy, we recommend you try Internxt.
Internxt is an open-source, zero-knowledge, encrypted cloud storage service designed for absolute privacy and security.
Internxt cloud uses blockchain and zero-knowledge technology so people's data and files are fully encrypted and secure. Also, all your files can be securely synced from your phone or laptop and accessed from different devices. It is well-designed, easy to use, and available on all devices. You can start with a 10GB plan completely for free!
If you care about your online privacy...