SharePoint vs OneDrive: What Microsoft Cloud Service Is Best for You?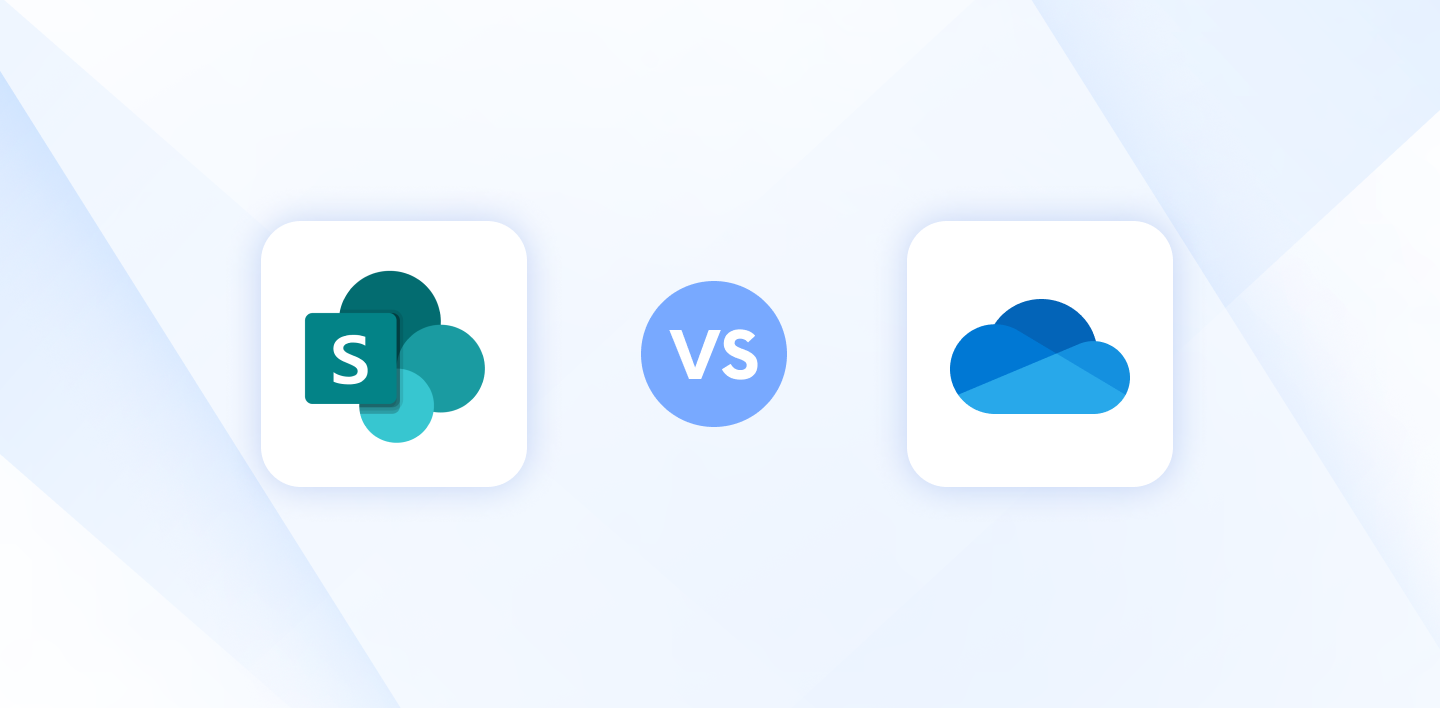 Microsoft has no shortage of online services, computer products, and digital platforms.
The sheer amount of different offerings from the tech giant is enough to make anyone's head spin. When it comes to cloud services, the two Microsoft products that immediately come to mind are OneDrive and SharePoint.
But what are the differences between SharePoint and OneDrive, and do you need both? Or can you get by with one? What cloud storage service should you invest in? Or maybe there's a better alternative altogether.
Let's dive into Microsoft's cloud ecosystem together and find out which of their cloud services are right (or wrong) for you.
What is Microsoft OneDrive?
Microsoft OneDrive is a personal cloud storage service allowing users to access their files from anywhere, backup data, and share and collaborate within other Microsoft Office apps. OneDrive's features include document scanning, online photo storage, general cloud storage, a protected Personal Vault, and PC folder backup.
OneDrive's native installation within Windows makes it very easy to upload and download files from your PC to the cloud. The service also has apps available for Android and Apple devices. OneDrive's ability to sync information automatically between accounts is handy and sharing with other OneDrive users is a snap. Though sharing with people without a Microsoft account is a bit tricky.
One lovely OneDrive feature worth mentioning in depth is the services Personal Vault. OneDrive allows you to unlock and access files you store in your Personal Vault files with your fingerprint, facial recognition, or SMS code. Though many people may be uncomfortable giving over biometric data and instead remain anonymous, it's still a very noteworthy security feature!
OneDrive offers a Basic 5GB plan for free and a 100GB standalone plan for $19.99/year. A 1TB data storage plan is included in a Personal Microsoft 365 plan for $69.99/year.
What is Microsoft SharePoint?
Microsoft SharePoint is a mobile intranet tool allowing businesses and organizations to share and manage content, knowledge, and applications. SharePoint facilitates teamwork by helping users quickly find information and seamlessly collaborate across their organization.
In a nutshell, SharePoint allows your organization to build a private website of sorts where you can post company information and share relevant news, files, data, and apps. This allows a business or group to streamline decision-making and information transfer better, helping everyone stay on the same page.
SharePoint excels in releasing information company-wide or in creating centralized employee training resources. SharePoint also wins when it comes to productivity and collaboration. The service comes with security controls, co-authoring, versioning, and integration with other Office apps.
Other SharePoint features include:
Requiring approval on documents before they are visible
"Check out" documents to prevent anyone else from authoring or editing them
Instant notifications when documents are uploaded or changed in any way
Enable workflows to use if/then logic to automate different actions like moving docs, emailing files, and recording information
SharePoint plans begin at $5/user/month and $23/user/month with Office 365 included.
What is the difference between SharePoint and OneDrive?
Both OneDrive and SharePoint help you share and store files and photos online, and both are compatible with all 365 applications. Both services also require a Microsoft account and should really only be considered if you are a Windows user and create most of your files via Microsoft Office.
The two services do overlap a bit in terms of features and functions. However, they can be used effectively together, along with Microsoft's communication and sharing platform Teams and their email service Outlook. So what's the big difference then?
Basically, the main distinction is that OneDrive is designed for personal storage, whereas SharePoint is built for sharing with many different users.

Should You Use SharePoint or OneDrive?
SharePoint is better for sharing and collaborating on files within an organization and publishing files for everyone within that organization to see.
OneDrive, on the other hand, is better for personal use and moving files between personal devices and occasionally sharing files with someone you know like friends or family. However, it's important to note that SharePoint also offers additional features such as fax broadcasting, making it a more versatile solution for organizations that require advanced communication capabilities.
If you need cloud storage and collaboration, you should choose SharePoint. OneDrive offers business plans too, but in the case of total office compatibility and scaling, SharePoint with the Microsoft 365 add-on is a safer bet, as it also includes Teams and some OneDrive storage.
OneDrive may leave your business lacking some features which you would find helpful in sharing information between departments.
If you need personal cloud storage and just want to share photos or documents with friends and family. OneDrive is a solid solution, primarily if you use a Windows PC or rely heavily on Microsoft Office applications.
Alternatives to SharePoint and OneDrive
The collaboration features and integration with other Microsoft Office apps are big pluses for SharePoint and OneDrive. That said, the services do lack privacy, and ultimately your data is at the mercy of Microsoft. Are privacy and security your number one priority? Are you looking for other SharePoint and OneDrive alternatives?
Google Workspace is a good option if collaboration is your only priority, but again Google lacks privacy and security. SharePoint lacks a ton of competitors, but Box and Confluence are smart options if you are interested in a SharePoint-like service. It's widely used and integrates with a bunch of third-party applications.
And if you need personal cloud file storage, Internxt is a super secure alternative for those leaning towards OneDrive.