What's the Best Way to Backup Files in 2023?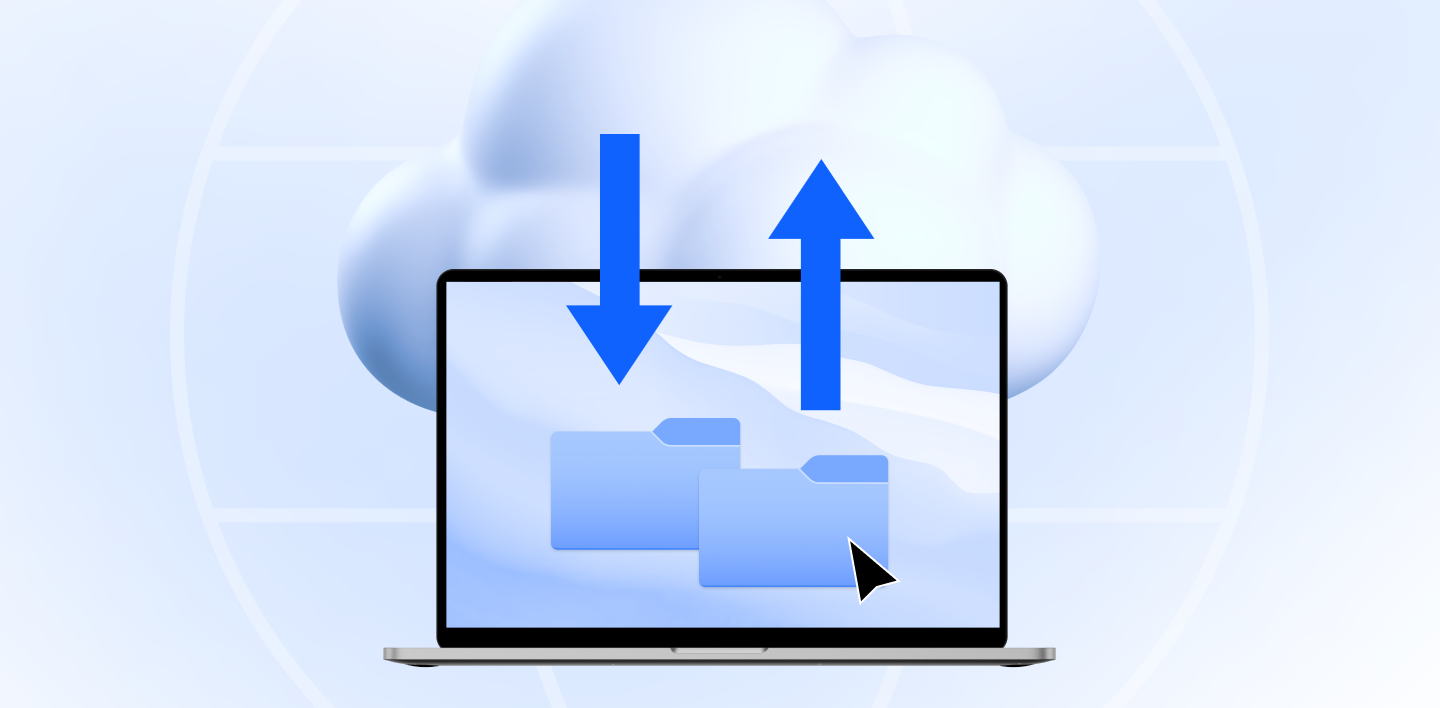 In 2023, we have a massive amount of data storage services right at our fingertips. From free, local software included on our devices to premium, top-of-the-line cloud storage services that hold up to 15GB of data for free (and a lot more if you pay). Of course, we can't forget the trusty hard drive, the clunky brick you carry around in your bag that acts as a safe haven for your files until you drop it.
When it comes to backing up files, safety is often overlooked. People tend to think that because they are backing up their files using the cloud, their files are out of harm's reach, but are they really? Look at this comparision and you'll see how many security features are missing from other popular cloud storage providers.
If we take additional security features into account, what is the best way to backup files in 2023? Let's find out.
Why Should We Backup Files in the First Place?
In the unlikely event that you drop your laptop in water or a house fire claims the life of your beloved computer, you'd sure hope you had a second copy of all that data that was lost somewhere, right? With cloud storage, backing up your data has never been easier.
By simply signing up to a cloud storage provider, we can upload our files to a drive and let the storage provider look after our data for us (at least that's what we hope). Security measures are in place to virtually protect your data, so a house fire isn't the concern anymore, but just how safe are our files? We'll cover this later.
If you're someone that uses computers purely for recreational purposes, file security may not be a pressing concern for you. On the other hand, if you rely on your computer for work and are consistently dealing with important documents, we highly recommend you utilize a high-quality cloud storage provider to keep your data safe from any physical mishaps that may occur.
Why is Secure Cloud Storage Important?
The days of transferring files to physical hard drives for backup are certainly on their way out. Don't get us wrong, there's nothing wrong with this backup method, though—like everything—it has its downsides. Hard drive damage or losing your hard drive often means those files are gone and gone for good if your computer or laptop has also bitten the dust.
Cloud storage alleviates some of these concerns regarding physical backup methods by providing us with a place to store our data without the need to ensure it's physically safe. But the internet, well, it's a prominent, scary place. Malicious people and software may be lurking around every corner, so is it truly safe to trust our data with cloud backup software?
The answer is yes, and no. Most cloud storage providers offer the bare minimum security measures to cover their tracks, but by no means do they ensure our data is entirely safe from prying eyes. Providers such as Internxt go the extra mile to guarantee they are not only covering their tracks, but their users tracks too. What additional security measures make Internxt that much safer?
End-to-end encrypted storage
End-to-end encryption allows our data to be transported safely across the internet without the possibility of decryption occurring on the journey, whether that's on the server or another third-party storage provider. Once the data—whatever it may be—reaches its desired destination, it is then safely decrypted for us (or our recipients) to use.
Zero-knowledge access from browsers
Just like we don't want malicious persons gaining access to our data, we'd prefer it if our data had confidentiality from browsers. By utilizing a zero-knowledge policy, our data is treated securely and remains on "our side" throughout its lifespan. Peace of mind is achieved when we know our data remains in our hands and never in the service providers. Your data will always be your data.
No third-party file access
Unless you read the finest of fine prints, you're probably unaware of just how much of your data can be accessed by third parties. Many online services that require our data either sell our information or simply use it to "better" their services.
When it comes to the films themselves, it's doubtful that providers or other parties will directly access them, but who's to say they won't? Ensuring files are off-limits to third parties, Internxt users can sleep easy knowing their files are protected from prying tech giants that might like to get their hands on them.

How to back up your phone?
A lot of people wonder how to backup iPhone with cloud storage, specifically how to backup iPhone to iCloud. There is an easy way to backup your iPhone to icloud.
Firstly, connect your device to a Wi-Fi network. Might sound obvious but this is important to your backup process will not be interrupted. Next, go to Settings, select your name and click on iCloud. Then, tap 'iCloud Backup'. Select 'Back up now' and make sure to maintain your connection to your Wi-Fi network until the process is completed. Back Up Now displays the date and time of your most recent backup. Also, you need to have enough storage space for completing the process.
And that's it! As you can see, how to backup iPhone to iCloud storage is easy.
You can also automatize the backups simply:
Make sure that iCloud Backup is turned on in Settings > Your name > iCloud > iCloud Backup.
Connect your device to a power source.
Connect your device to a Wi-Fi network.
Make sure that your device's screen is locked.
What is the Best Way to Backup Files?
There's basic, run-of-the-mill cloud storage, and then there's Internxt: a hyper-secure cloud storage provider which is leaps and bounds safer than any of the leading cloud storage services on the market.
How do we choose which one to go for with so many ways to backup files? What features should we consider when deciding, and why would we want to pay for service over using a free one? Let's look at a few deciding factors that may help you with your decision.
Security
This is likely at the top of the list for many people. File security is massively important in this day and age. With so many possibilities of intrusions and the potentially vicious nature of the internet, it's hard to feel totally confident in our data's security.
If we opt to use a quality cloud storage provider such as Internxt to store our files instead of the inferior storage options (physical hard drives or generic pre-installed software), we immediately increase the overall security of our data.
Storage space
Most "freemium" cloud storage providers offer a free account option where a base amount of storage space is provided, ranging from around 2GB to 15GB. Depending on the person and what you need to store, this may be enough, or it will be a laughable amount that will be used up in minutes.
By opting to pay for a premium version of these service providers, users can receive a massive amount of storage space. On top of this, if you choose to use a secure provider, you can have a lot of data sitting safely in a trusted place.
Take Internxt's most popular plan, for example. A whopping 200GB of cloud storage costs only $3.60/mo—less than a cup of coffee. They also offer a 2TB plan for those who need all the space. That's 2TB of potential data you never need to worry about getting into the wrong hands. Totally worth it if you ask us.
Ease of use
No one likes a cumbersome, clunky UI that leaves a sour taste in the mouth after every use. Why do this to yourself when you can use a software or service that clearly considered UX when designing their system?
Uploading, managing, and sharing files should be seamless and free of any headaches or roadblocks. Without naming names, most of us can probably agree that this isn't always the case. A storage drive should be a place that can be easily kept organized. Users shouldn't have to rummage through files or potentially lose, delete or move their data to the wrong place due to an awkward UI.
This is why ease of use is a factor that needs to be considered when choosing which backup service you go with. Have a look at some leading providers and decide for yourself which user experience looks best for you.
The Bottom Line
It's safe to say that the best way to backup your files this year is using an esteemed cloud storage provider, one with added security measures and the ability to provide you with nothing but peace of mind.
Users should have the option to purchase more space depending on their requirements while also having a free option for those that need the bare minimum. The experience of using a cloud storage provider should be simple and effective, with a great sense of security attached to it.
With all these factors taken into account, some standout services available online can achieve all of this and then some. Internxt truly is an innovative cloud storage solution that has gone the extra mile to guarantee all of these positive attributes are met.