6 Major Benefits of Using Cloud Storage for Employee Training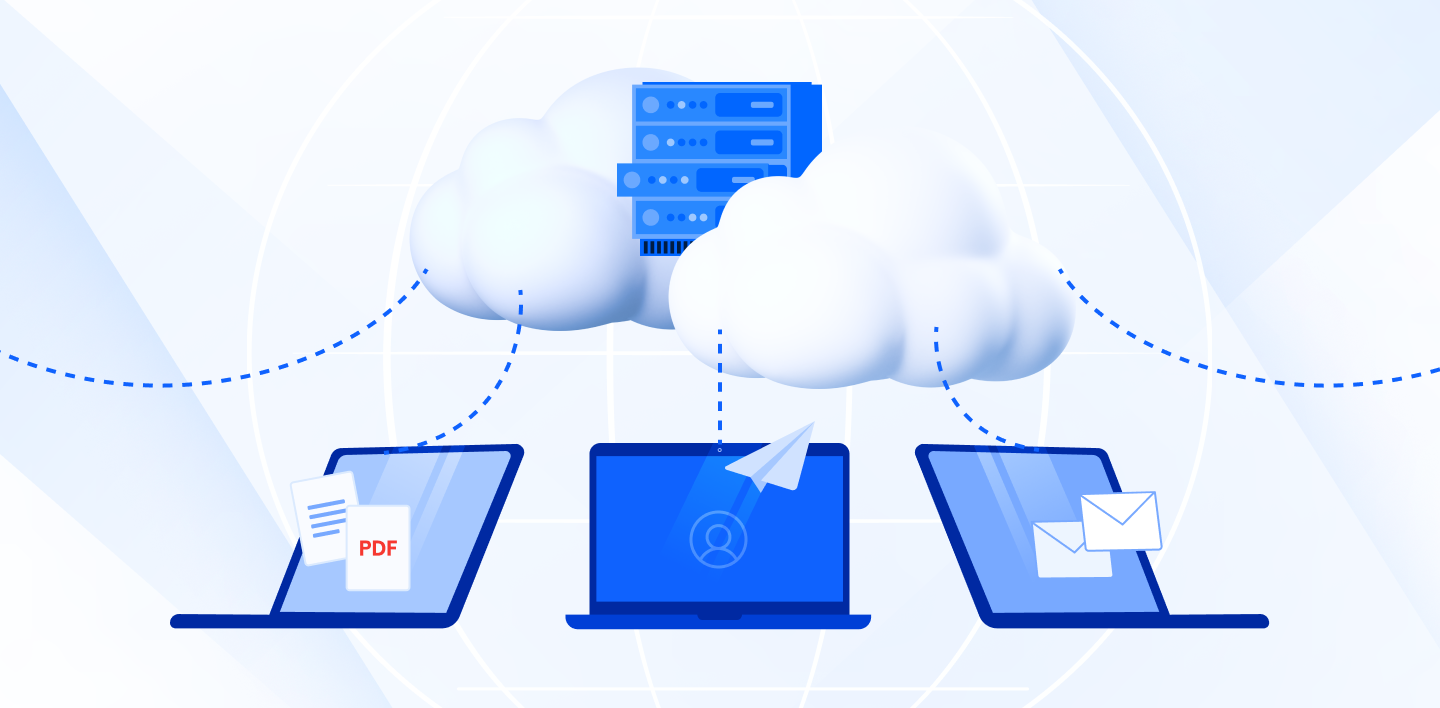 As more and more people work remotely, businesses must find new ways to hire, onboard, and train their staff virtually. To help you organize your remote employee training, you should try adding a cloud storage platform to your company workflow.
There are several benefits of using cloud storage for employee development courses beyond just their easy access and numerous security factors. Here, we'll explain why you should adopt cloud storage for employee training programs.
It's accessible from anywhere
Let's face it, there is a high probability that your next hire lives in another city than where your company is based. Perhaps they don't even live in the same country as you do. So if you have a remote work culture, you should also have remote training.
When you use cloud storage for your employee training, your team can access the virtual lessons (in whatever form they may be) anywhere and at any time. This means your new employees don't have to attend their training at a specific place and time. They can view your lessons and training videos or take quizzes at their convenience.
Looking at this opportunity from a bigger perspective, cloud platforms make it easier to hire from anywhere around the globe since all it takes to onboard and train new joiners is a reliable network.
Another point is that a modern learning management system supports various operating systems. Now, your employees can access their training materials through their tablets, phones, and other devices. They're not limited to just a PC or laptop.
It's easier to scale
Imagine you're in a startup that just landed a round of significant funding and needs to scale up the team fast. Unfortunately, organizing in-person or streamed training programs can cost lots of money when you factor in the X amount of time you spend giving training materials to your new workers.
And we're only talking about one training session here. If you have to do several training sessions throughout the year, you'll prefer to organize an on-demand program (Netflix style) where your team can access sessions at their own pace. Since you have uploaded all the training classes in the cloud, it makes no difference if you hire 2 or 20 employees simultaneously.
All you have to do is ensure that the materials you have in your cloud storage are up to date and then track their progress. You can also quickly scale it for different purposes based on departments or roles. A simple yet video editor is all you need to create a variety of customized training sessions which can be easily stored in your cloud storage.
Additionally, if the hiring process has to be postponed, scaling back is easy and won't cost you anything since you haven't already spent thousands on expensive software and hardware.

It works across departments
Let's say that you sell a SaaS product, and your engineering team has just created new features that can benefit your customers so much that it's revolutionary. Not only that, your marketing team now needs to know all about the new ground-breaking features, plus it's also crucial for the sales and customer support teams to be informed. The question is: who has the time to do three separate training sessions to explain the same topic?
With cloud-based learning systems, you can create shareable modules to be shared across departments. You can easily create a new lesson on the employee onboarding, set it up, and then reuse it across different teams.
If you need to share something as simple as a homepage update or as significant as your company security policy you can create one single module in your cloud learning system and share it with the entire company.
It's more affordable
Training on-site can cost a lot of money when you consider everything it takes to get your employees in one place. In most cases, the training they attend will also take away most of their workday, if not all. Even if you're using apps to train your employees on-site, installing different programs on your team devices can cost some serious cash.
On the other hand, if you use cloud-based training, you only need to pay the company's cloud storage subscription fee, or worse, upgrade the service's expansion capacity. Comparing this to buying software licenses for your whole team, or even flying in your staff, extending your cloud storage is much cheaper.
Furthermore, another benefit of using cloud storage for training is that you can always predict how much it will cost to train your employees. As all you pay are the platform expansion costs with no attached (and annoying) no hidden fees.
It's safer
If a company laptop is stolen, the cost to replace it is perhaps something you can live with, but what about the data stored on it? Someone could access your business emails, customer contact data, training materials, etc. With cloud storage, you won't have to worry about that anymore.
If something happens to a company laptop, whether it's stolen or broken, you can secure the data access to the cloud. Not only is this more convenient, but it's also significantly safer if something unexpected happens to any company devices.
It improves productivity
Lastly, flexibility is the most substantial advantage of cloud training. With cloud-based training, your employees won't have to spend hours traveling from their homes to the office. Instead, they can fire up their training program from their sofa and, once they're done, quickly transition back to their work.
Employees can plan their days according to when they're most productive. For example, they can attend training early in the morning and move on to their actual work, or take training after official work hours because it suits their work-life balance more.
The bottom line is that they won't have to waste their most productive hours going to the office and attending their training. Instead, they can attend the training session whenever they feel it's convenient, allowing them to maintain total productivity while at work.
Train remote employees on the cloud!
If you're already hiring remotely, using cloud storage, such as Internxt, is the next logical step for employee training. Many benefits make cloud storage an excellent solution for employee training. Some of the advantages mentioned above are not limited to remote working but to in-office work culture.
Future-proof your business and simplify hiring by bringing your employee training processes to the cloud!
---
Author bio: Raisa Yogiaman is a content marketer at Zavvy, an employee enablement platform that combines employee experience with smart workflow automation. Raisa's passion for HR and marketing is prominent in her articles found on Zavvy's blog.