The Ultimate Guide To Freeing Up Extra Space Storage on Your Phone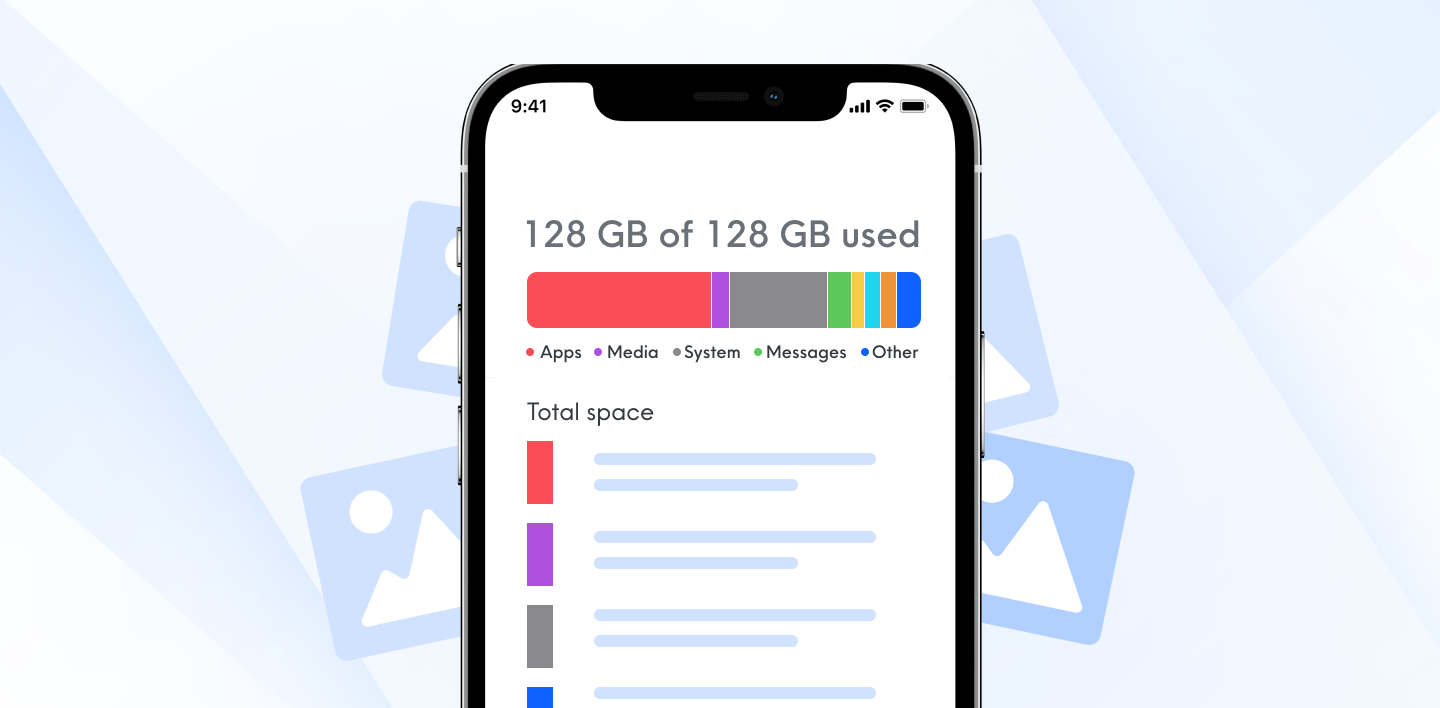 Isn't it funny how you always seem to run out of phone storage at the most inopportune times?
It's your kid's graduation, and BOOM, no room for photos. You need to transfer a big presentation file to your phone before class, and POW is no storage. You're about to get on a flight, and you'd like to download a playlist, and NOPE, absolutely zero room left on your phone.
Below we've created the ultimate guide to freeing up extra space storage on your phone. Whether you need to free up a little space quickly or you're doing a deep clean of your mobile device, we'll tell you exactly what you need to do and what to keep doing so you never see that annoying notification saying your phone is full ever again.
What Exactly Are You Storing?
To make some extra space storage, you first need to figure out what is taking up so much space on your phone, to begin with. Without knowing what data is using the most storage, you may spend all your time deleting photos you'd rather keep instead of deleting that one long-forgotten cat video in 4K that's taking up half of your total storage.  
It's relatively simple to look up where all your storage is being allocated on both iPhone and Android devices. To see what is eating up your phone space, go to your setting and find the "Storage" tab. How to do this?
On iPhone, go to your settings, select "General," and then "iPhone Storage."
On Android, go to your settings and select "Storage."
On both platforms, you'll see a similar layout. The screen will tell you what type of files and the percentage of available space they use in a neat, color-coded bar.
Follow Your Phone's Recommendations to Easily Free Up Extra Space Storage
Once you are on the storage screen, you will notice that you are presented with tons of helpful information regarding your phone's storage and memory. Your phone will then give you several options to help clean up the device.
iPhone users will also see recommendations on how to free up more storage. Follow all of them! Android users can clean up their devices automatically with the help of Files by Google. Do it!
Spoiler: one of the recommendations you will see will be to backup iPhone to iCloud or backup your Android to Google. Definitely consider it. How to backup iPhone or Android devices? Read on to learn how to back up files.

How To Quickly Free Up More Space
Maybe you're in a pinch and don't have time to clean your phone. In that case, here are five quick tips for freeing up some storage fast:
Clean up your photo library
Photo files usually take up the most space on your phone. Simply sprucing up your photo library is the quickest way to open up some free storage. How to delete all photos from iPhone or Android? It's not easy to delete old photos, but your phone storage will thank you!
On iPhone and Android, go into your photos and select each one you would like to remove, and tap "Delete" (sorry, there isn't much of a better way to do this without using third-party apps)
Clear browser cache
Your chosen phone web browser stores a bunch of information to make scrolling the web more effortless and more personalized. Over time, this info builds up and takes up valuable phone real estate. Deleting the cache won't affect web performance, and your browser will automatically pick up any new information it needs to run.
On iPhone and Android, go to your browser's (Safari, Chrome, Firefox, etc.) settings and look for "Clear Browsing Data" or "Clear History and Website Data" and select it.
Clear any unnecessary web cookies while you're there as well.
Clear app cache and other app data
The same goes for apps, many apps cache information to run more efficiently and provide a better user experience. You don't need all the stored cache data, so why not sweep it out? To do so, on both iPhone and Android, you simply delete whatever apps you wish to clear data for, then reinstall the app.
On iPhone, go to "iPhone Storage," and you will see a list of all your apps sorted by the amount of storage space used. Select an app and choose to delete or offload it. Offloading an app doesn't delete all app data for the off chance you want to reinstall it in the future.
On Android, go to Google Play Store, select your profile, click "Manage apps & devices," then "Manage." Under each app name, you'll see the amount of storage it uses. Delete an app by selecting it and tapping "Uninstall."
Delete message attachments
Text messages don't take up heaps of space, but those gifs, screenshots, videos, and whatever else you receive (or send) as an attachment do! You wouldn't believe how much storage space is wasted on years of message attachments.
On iPhone, return to "iPhone Storage," then select "Messages." There you will find "Photos," "Videos," "GIFs and Stickers," and "Other" folders where you can delete any attachments you've sent or received.
On Android, open the My Files or File Manager app. Select the folder called 'Downloads," then press and hold any file you want to delete.
Delete offline content
Anything done in an app's "offline" mode is stored in its totality on your phone. Are you working on a doc in Google Docs offline? Yep, that whole document is saved on your phone somewhere. Once you're back online, it's time to delete all stored offline content.
On iPhone and Android, go to the account settings of any app you want to delete offline content for. Look for "Downloads" and then delete any files listed there. This process is different for each application.
Make Sure Your Storage Doesn't Fill Up Again
Now that you've finally got your phone sorted out and in working order, you must ensure you never run out of space again. How? Is that even possible? Yes, it is, but only if you follow some (or all) of the suggestions below:
Backup photos and videos in the cloud
The single best thing you can do to avoid filling up your phone in the future is back up most of your files, photos, and videos to the cloud instead of storing them natively on your mobile device. It's a very, very, VERY good idea to backup iPhone with iCloud and Android with Google often. Obviously, this drastically increases the amount of free space on your phone.

To do this, you can go with the manufacturer's built-in cloud service, iCloud for iPhones, and Google Photos (or Drive) on Android. Both offer a little bit of free storage, and it's easy to set up automatic syncing.
How to backup iPhone?
How to backup iphone to iCloud? You can access backup options and sync any data you wish by navigating to your Apple ID in your settings and clicking the iCloud tab.
From there, you can select and enable the data you want to backup from your iPhone. If you decide to back up photos, make sure you enable "Optimize iPhone Storage" for extra space storage savings. That's it! It's that easy to backup iphone with iCloud.
How to backup Android?
How to backup Android to Google services? First, you'll need to download the Google Photos app (if it isn't already pre-installed. Click the personal account icon in the top-right corner, then select "Photos settings," then "Back up & sync," and make sure it's set to "On."
Once your pics are backed up, you're now free to delete photos from your device. In the "Photo settings" menu, you can tap "Free up device storage" to automatically free up space after your backup is complete.
It's great to use Google Photos, Drive, and iCloud while it's free. But unfortunately, you will run out of data pretty quickly as they both only give you about 5GB of data.
Once you have to pay for storage, you may want to look into different cloud storage providers. Google and Apple offer great products, but Big Tech has a poor privacy record.
Switching to an encrypted, private, and more affordable service like Internxt is an intelligent choice.
Optimize your photos and disable saving duplicates
Modern mobile devices enable almost all of their camera features by default. Many of these "new" and "innovative" features have a vast storage cost. 4K video and HDR photos take up a bunch of memory and storage space.
Go into your camera and photo settings and fool around a little. Make sure your camera isn't saving duplicate photos, set the resolution for images as low as you're comfortable with, and adjust your default camera setting to exactly how you want them.
Keep in mind you can always go back and change them if you want really nice pictures of a particular event on a specific day. Think about it, do you really need a high-resolution snapshot of your grocery list or of that funny sign you tried to catch while driving at 70mph? Probably not.
Offload and uninstall unused apps
Sometimes phone home screens become cluttered. That game you downloaded and played once needs to go.
Head into your phone's settings and uninstall and delete any apps you can live without. Make sure you delete all access app data as well. Your phone should ask you if you'd like to do so, select "Yes."
Also, most phones allow you to uninstall apps that haven't been used in a while. This won't delete all of the app data on the phone, and the app will still appear on your home screen, but you will need to re-download it before using it again.
Doing this is an excellent way to determine which applications you should delete in their entirety. You may think you need an app, but when you see you haven't opened it in a year, it's much easier to let it go finally.
Stop storing messages forever
Head into the settings of whatever messenger you use, and you will find an option to remove old messages from certain periods. You can also set your messenger app to automatically delete texts after a year, month, week, etc. The shorter the time, the better for your storage.
Warning! It's essential to make sure you save stuff you receive that you want to hold onto. If someone sends you a nice photo and you don't save it right away to the library, it will eventually be deleted.
Alternatively, if you like keeping a record of your messages, you may be able to choose to back them up in the cloud, which will keep them from bloating your phone's hard storage.
Clean files and remove unwanted documents
Like your computer, your phone collects all sorts of files and unwanted documents as you click, browse, and download. A bunch of apps is available to help you weed out different files you may not even know you had.
For Android, Files by Google is great for tracking down and eliminating unwanted or unused files. For iPhone, Smart Cleaner is a well-reviewed and effective third-party app that helps tidy up your device. These apps are available on the Apple or Google Play store and are super helpful in making the most of your devices' storage.
Word of caution! Though these apps are super helpful, they require open permission, and you must open up most of your data to operate. This means app developers can access some of your information. Perhaps pass on third-party apps if you are a stickler for privacy and wish to preserve your digital rights.
Ditch downloaded music, podcasts, and audiobooks
Head on to your Spotify or Audible or Podcasts and remove any media you're not currently using. You can always download them again if you miss them. Typically, it's as easy as selecting each playlist, audiobook, or podcast and clicking to remove them.
Audio files don't take up as much space as video, but you'd be surprised how quickly these can pile up, especially if you are an active listener. Get into the habit of deleting any media from your phone as soon as you're done consuming it.
Shoot lower resolution videos
This last tip is easy and will do wonders for your phone storage. Go into your phone's video settings and lower the default resolution of videos.
Often 720p is enough for random, silly videos. 1080p is HD and very fine. 4K is almost always unnecessary unless you're creating content professionally or it's something you really, really care about. Use your judgment and select the best options, but remember that the lower the resolutions and video settings, the less space the video will take up.

Happy Cleaning!
Are you excited to finally get that phone of your squeaky clean? No? Yes, cleaning out your phone may take time, effort, and energy, but that's nothing compared to constantly slamming into your storage limit.
Follow all the steps, tips, and tricks on how to backup iPhone or Android devices listed above, and your phone storage will become light as a feather. Explore your app and phone settings even further when you're bored or have some time to kill. You can choose from all sorts of options to better manage your storage and free up space.
Your "Privacy" settings also have a ton of creative options for limiting trackers and cookies that can sneakily take up space. The more you dig into your settings, the more you'll understand what's happening in the background and the more in control you'll be of storage, your privacy and your overall data security.
Want to know more about what goes on in the digital background? Discover how Internxt protects your files and your privacy behind the scenes.