8 Best File Sharing Services in 2024
We've compiled a list of the 8 best file-sharing apps in 2023 to help you keep your important files safe.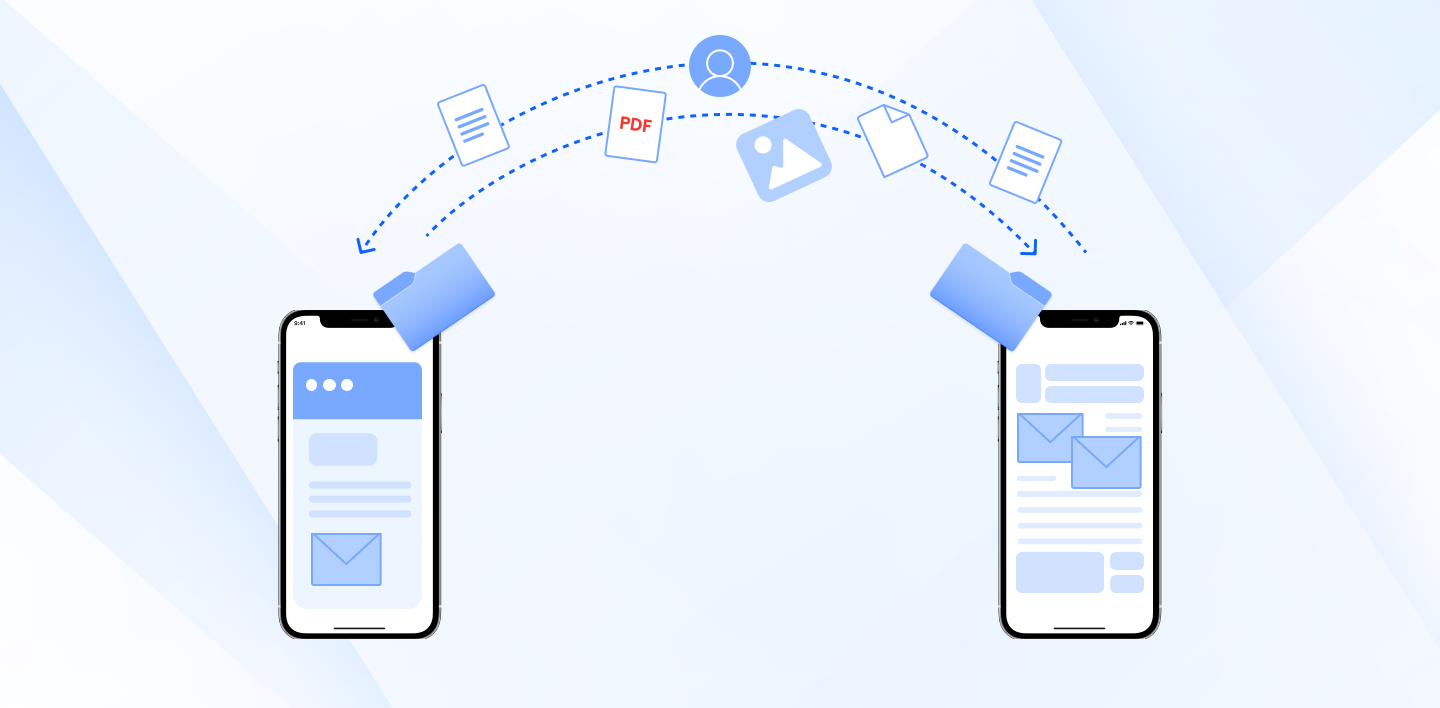 You have a file and you need to send it. Email is the obvious choice, but it's sensitive and you know nothing sent via email is 100% secure. What are your options?
You could load the file to a password-protected USB and mail it physically, fax it perhaps, or, the best choice, find an encrypted file sharing service. There are several great, private file-sending services on the market today, all with their own strengths and weaknesses.
List of the Best File Sharing Services
Here, we've compiled a list of the eight best file sharing apps that will help you get your important files safe in the hands of others without being spied on.
Internxt Send: Best Encrypted File Sharing App
Our secure file-sharing service allows you to securely send any type of encrypted content to anyone via an easy-to-use sharing link. To do so, you just need to simply go to our Send web page and drag and drop the file you wish to share to generate an encrypted sharing link.
Another smart way to transfer files with Internxt Send is to enter the email address of the person you wish to share the file with. You can also enter a personalized note that the recipient will receive in addition to the link.
Send encrypts all your files before sending and all files uploaded to the service can only be accessed by someone with the unique sharing link. Files are limited to 5GB and the sharing link generated will expire (for your safety) after 15 days. Bonus: Send is also completely free to use!
WeTransfer: Most Popular File Sharing Service
WeTransfer is a convenient way to exchange files across the globe. Try WeTransfer if you want to use something that does not rely on a larger Big Tech platform, like Dropbox or Google Drive.
With WeTransfer, you can freely share files up to 2GB. You don't even have to create an account if you don't want to, though you must enter an email address where you can be reached. Transfer files by selecting your file (or files), when prompted enter the recipient's email address, and that's it—you're done. You can email or save the link to the uploaded file, and it will stay active for 1 week.
WeTransfer has a 2GB restriction for personal users, and the recipient can download a provided file within 7 days of receiving it.
pCloud Transfer: Best Anonymous File Sharing App
pCloud Transfer is a secure file sharing app very similar to WeTransfer. It's free and you do not need to register before using the platform.
You can send large files over the internet with decently high-level file encryption. All you have to do with pCloud Transfer is add a file as instructed, and the tool will generate a download link for the recipient to use. pCloud also allows users to send large files up to 5 GB. If you want to learn more about pCloud, you can try it out for free.
Like other services mentioned on this list, pCloud Transfer solves the age-old challenge of anonymously and quickly sharing huge files with people. It only takes a few clicks for your files to securely reach their destination.
Files.com: Best File Sharing App for Businesses
Files.com is a software-as-a-service (SaaS) file transfer platform that allows businesses to securely transfer or share files between users, teams, and organizations. This fast file transfer service is differentiated mainly by its connectivity and integration with many apps such as Office, AWS, WebDav, Slack, SFTP, Box or Dropbox, among others.
It's easy to select the files or folders you wish to share from within integrated apps and the service as a whole is very simple to use according to most of its users. Also, the speed of their service is considered good, as it boasts a speed of over 100Gbit.
Files.com's functionality supports the FTP, SFTP, and WebDAV protocols. This file-transfer service is a good choice for businesses as enterprises can save money on cloud storage by using their own on-site storage in tandem with the service.
4shared: Best File Sharing App for Sending Downloads
With 4shared's file-sharing service you can exchange direct download links and use download managers to download many files at once. The service can pause and resume interrupted downloads. Users can also preview files, including images, audio, and videos.
In terms of security, even though 4shared has no end-to-end encryption, you can transfer data securely using SFTP. Another advantage of 4shared is that you can password-protect sensitive files to limit access.
4shared also has several unique sharing features that set it apart from the competition. One being the option to invite people to add to shared folders. Unique features like this one open up the service to a wide range of collaboration-centric use cases.

Send Anywhere: Best File Sharing App for Sending Large Files
Send Anywhere is a free file-sharing service that allows you to quickly send files up to 10GB in size, with the link live for up to 48 hours. You can transmit files directly by a URL link, or via email after adding them from the opening splash screen.
Send Anywhere's setup is quite basic and very similar to WeTransfer, as you have simpler choices of file-sharing options to choose from. However, you can share files up to 50GB in size, one of the largest limits listed here. Their premium plan has folder management options, file tracking, download limits, and excludes the free services annoying ads.
If you don't want to have to open a browser each time you send a file, Send Anywhere gives you the nice option of using their mobile app.
WeSendit: Best File Sharing App With Perks
WeSendit is a secure Swiss file transfer service that runs on a decentralized network. It is an easy-to-use platform for sending large files. You can send any type of file up to 2GB for free (up to 50GB if you get their premium plan) and no registration is needed. Another plus for WeSendit is you can protect your files with a password.
To get started, you just need to visit their website and insert the email to whom you want to send files. This SaaS is available for individuals and for businesses. One way WeSendit incentivizes its users is that every upload gives you the chance to win attractive coupons and prizes.
WeSendit is definitely a solid option if you care about the security of your files and love chasing rewards.
Jumpshare: Best File Sharing App for Collaboration
Jumpshare is a free file-sharing service allowing users to share their files in seconds. This work communication tool allows you to share files, photos, and videos in a flash.
Jumpshare also has a collaborative option and a straightforward user interface. Jumpshare integrates screenshot capturing and video recording, as well. You can share your work and thoughts with others by using immediately shareable links and even get a file link before the file is uploaded entirely.
Some other nice Jumpshare features are, access to permissions and controls, document management, drag and drop, encryption, video editing, and collaboration tools.
Unfortunately, it is compatible with Mac and Windows but not with Linux. Jumpshare's app is available for iOS, but not for Android, which is a pity. Nevertheless, this is a good option if you are looking for a platform for storing, organizing, and sharing documents.

What Is the Best File Sharing App?
As we shift more and more work-sensitive and confidential files online, we must secure the security of our personal information and data. If data sharing and information security are important to you, Internxt ensures the confidentiality and integrity of your files by encrypting all the files you send to your friends and family and never storing or transmitting user files.
Though several services are useful and perform comparable functions, Internxt appears to be a step above the others in terms of overall security and its user-first philosophy, as they offer the most features dedicated to safeguarding customers' fundamental individual rights.