Amazon Photos Alternative? The Good, the Bad, and More Private Options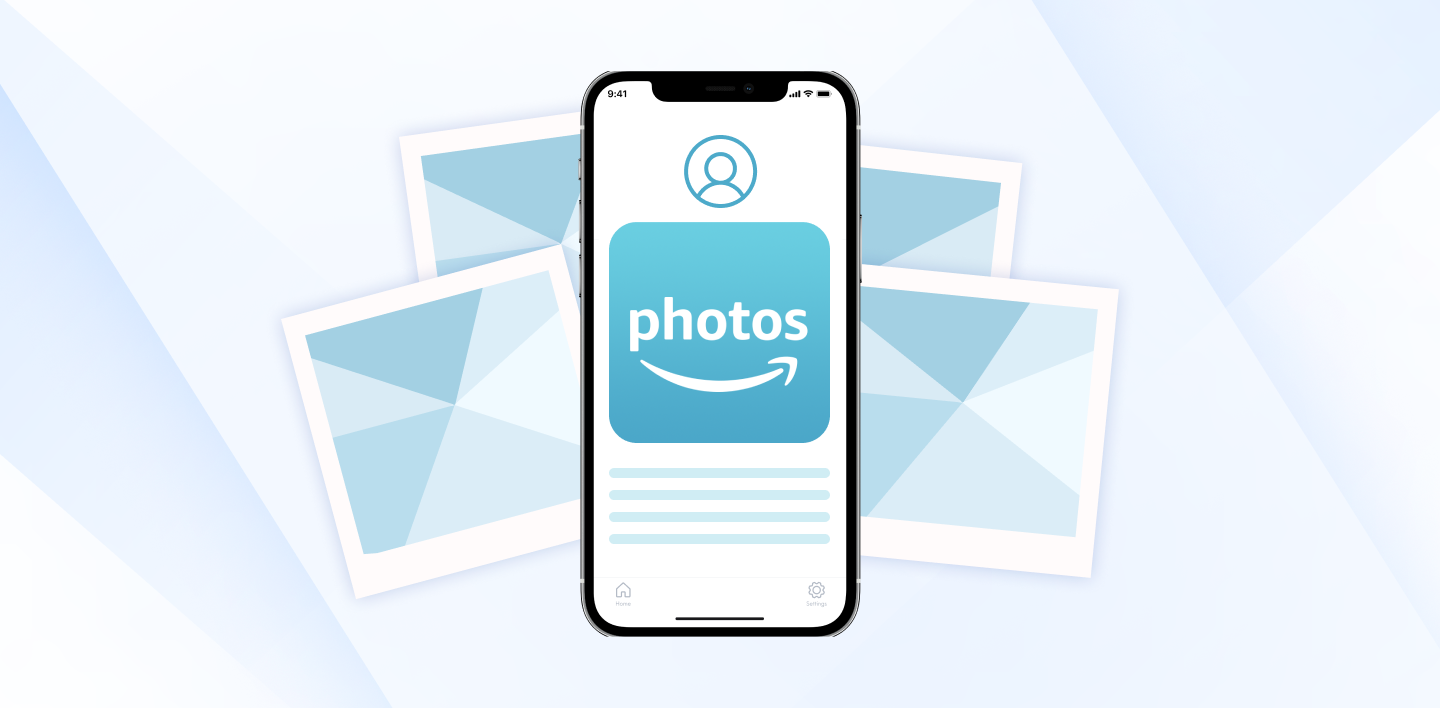 You've heard of Amazon, but do you have any idea how many services they actually offer?
They have their online store, streaming video service, Audible for audiobooks, AWS for commercial cloud computing and server services, and so very much more. Did you know they have a cloud photo service called Amazon Photos? Well, they do.
Is Amazon Photos good enough to try out, and can you trust such a massive cooperation with all of your precious photos? Or are you better off going with a cloud that's a much more private and trustworthy cloud service like Internxt?
Below we'll explain everything you need to know about Amazon Photos, including its pricing, features, pros and cons, what it's like to use the service, and if we recommend using it or if you may be better off choosing an alternative.
About Amazon Photos
Amazon Photos is the commercial giant Amazon's cloud photo storage service. Bundled with the company's overarching Prime plan, it offers unlimited, full-resolution photo storage, plus 5 GB of video storage for all Prime subscribers.
Don't have Prime? All other customers get a free 5GB of photo and video storage, and if you'd like more storage (without Prime), you can purchase a separate limited plan. If you lack storage, to compress files could be a good idea, you can compress mp4 so you can store more videos.
Amazon Photos lets users store, print, and share photos from the Amazon Photos app. Users can also view and display snapshots on various Amazon devices like Fire TV, Echo Show, and Amazon Fire tablets. The service lets users backup photos to the cloud freeing up space on their mobile devices or desktop. Amazon Photos is one of the only cloud storage services that enables users to order custom keepsakes such as prints and holiday cards using selected photos.
The service works partly with Amazon Drive, Amazon's cloud file storage service, but Drive will be terminated on December 31st, 2023. Amazon Photos will continue operations for the foreseeable future. Services terminating and leaving users in a pinch is nothing new. It's often better to go with more modern block-chain based cloud photo services, like Internxt, which will live on even if the company folds.

Amazon Photos Pricing
Amazon offers up to 5GB of free cloud storage for photos for everyone with an Amazon account. Paying for Amazon Photos can be a bit confusing thanks to its inclusion in Amazon Prime, Amazon's all-encompassing shipping, and digital service subscription.
If you have purchased or subscribed to Amazon Prime, then Amazon Photos is essentially free and included with Prime. But Amazon Prime isn't cheap. Prime costs $12.99 a month or $119 a year. All users with Amazon Prime can store unlimited full-resolution photos with Amazon Photos and store up to 5GB of videos.
And if you don't have Prime and don't want to spend so much? Users can subscribe to Amazon Photos separately without getting Prime. 100GB of cloud photo storage costs $1.99 a month or $19.99 a year, or you can get even more storage at 1TB for $6.99 a month or $59.99 a year. In comparison, you can get 2TB of Internxt private cloud photo storage for about $10.30 a month and even less when paid yearly. Other Internxt plans are also available.
Amazon Photos Features
Amazon Photos' most admirable feature is that it's one of the few cloud photo services that still allow users to store unlimited full-resolution photos. Though users only get 5GB for videos, the ability to keep absolutely all of your images is a nice plus. Other Amazon Photos features are:
Automatic sync on iOS and Android app, scheduled backups on the desktop app
Ability to share albums with other users via text or email
Send and react to photos with a built-in messenger feature on the mobile app
Search photos with native photo recognition
Sort photos by location, date, or whether they include a specific person or pet
Order prints, postcards, calendars, and featuring your photos directly in-app or browser
Using Amazon Photos
Using Amazon Photos is simple enough. You sign into photos through Amazon's main site or mobile app and are greeted with a clean, intuitive interface. It's easy to drag and drop pictures or browse your device for images to upload them to the cloud. Upload and download speeds are acceptable.
The service allows you to create share groups, but it seems you can only share with people who also have Amazon Photos, but you can easily invite them to make a free account via a link, your contacts, email, or Facebook. You can order prints in less than a couple clicks by selecting a button in the top right corner of the app. The settings are robust and navigating to help, feedback, hidden items, shared items, etc., is straightforward.
Though Amazon Photos doesn't offer any crazy new or mind-blowing controls or features, it looks and operates like many other cloud services. However, it is still very accessible and attractive. Other secure cloud services, like Internxt, for example, offer almost all of the same ease of use without any privacy worries.
The printing feature is very cool but obviously comes with an increased cost. And the linking to Amazon Drive is excellent, but that will soon be discontinued. The fact it's difficult to share with friends and family outside the Amazon ecosystem is a bummer. But the unlimited storage (with Prime) and the apparent quality of the Amazon Photos apps are nice positives.

Pros and Cons
Amazon Photos has a lot going for it and a lot going against it. Below are the Amazon Photos' pros and cons:
Pros:
Unlimited full-resolution photo storage
Dedicated mobile app that's simple to use
Can order prints of favorite photos
Cons:
Not worth the cost without an Amazon Prime subscription
Poor, obscure security policy
May kill the service
The Verdict: Should You Use Amazon Photos
Amazon Photos is only available where Amazon offers its other services, such as in the UK, US, Canada, Japan, and a few countries in Europe. If you can't get Amazon deliveries in your country, you'll unlikely be able to use Amazon Photos.
If you already have Prime, then, by all means, give Amazon Photos a try. The cost of their service is irrelevant if you have already bought into the ecosystem. On their own, several other cloud photo storage services are a better bargain, even though many of those don't offer unlimited storage.
The biggest reason to worry about Amazon Photos is its lack of privacy and untrustworthiness. While photo recognition is a convenient feature, it lets Amazon scan and analyze everything you upload to the service. What they do with that data is anyone's guess.
Also, since Amazon recently announced they will shut down the service of Amazon Drive, its cloud file storage, who knows when they will bring down the ax on Amazon Photos? Yes, they said they want to focus on Photos and are committed to doing so in the near future, but Amazon is a difficult company to trust.
Alternatives to Amazon Photos
While capable, Amazon Photos really only makes sense if you are already a subscriber to Amazon Prime.
For the money for their non-Prime plans, you can find a service just as good for less. Privacy is one of the biggest reasons to pass on Amazon Photos. Amazon has an abysmal track record regarding privacy, and its photo recognition features don't inspire much confidence in the digital rights department.

Ask yourself, how important is cloud security to you?
With many of the same features minus all the privacy pitfalls, Internxt is a much better option for anyone who's even slightly concerned about protecting their photos and personal information. With Internxt you can save your photos, memories, videos, documents, work sheets, photoshoots, company logo design, and more! Yes, Amazon may be somewhat more convenient if you are already plugged into its other services, but you pay a high privacy cost.
Your memories are personal, and you shouldn't have them with a giant corporation just so you can access them anywhere and anytime you want. Forget Amazon Photos and trust your photos to a cloud storage service that puts your right to privacy first and foremost. Go with Internxt instead.