8 Least Invasive Phone Apps: The Best Apps for Hiding Your Data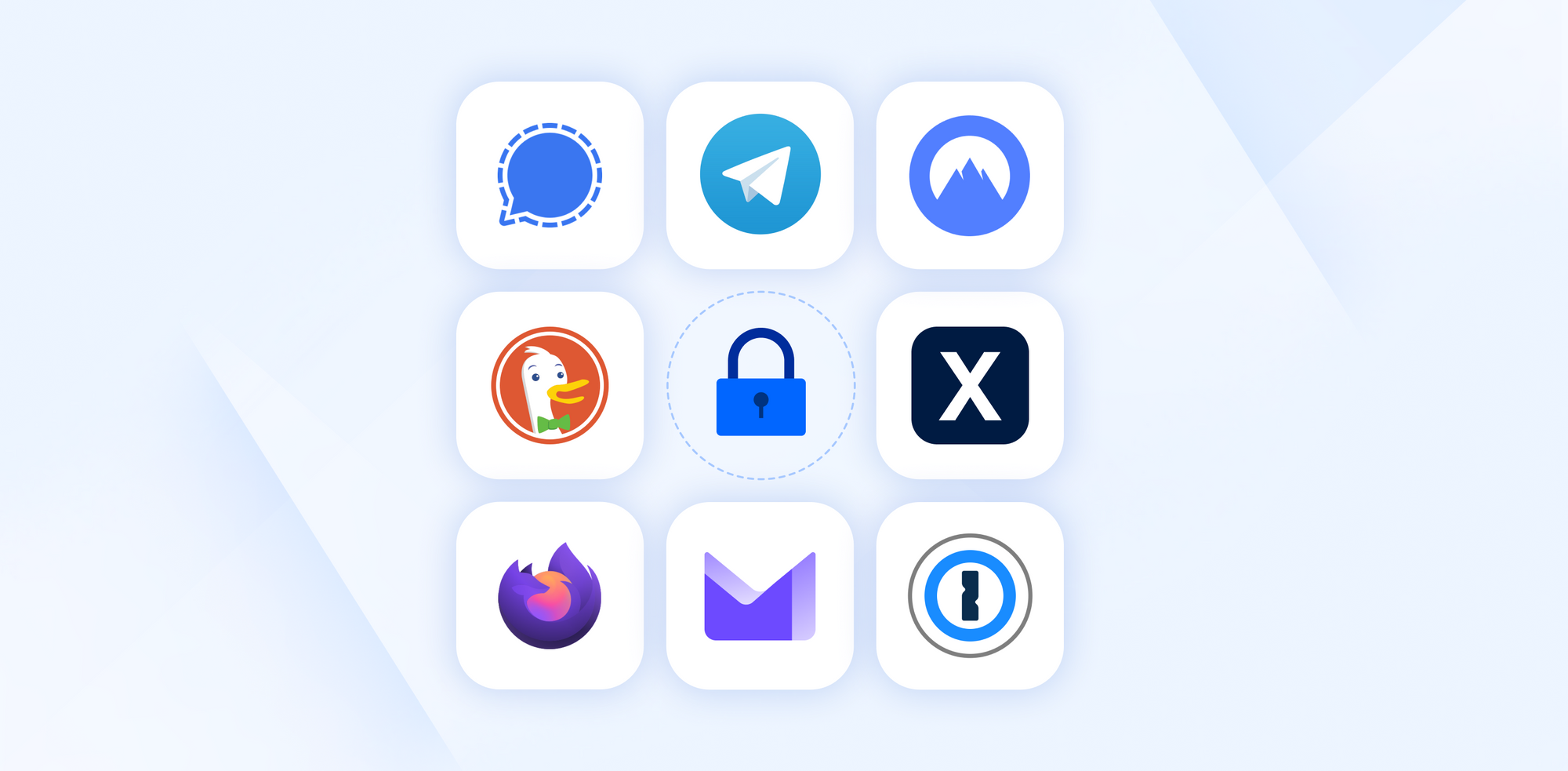 For most smartphone users, cybersecurity is often an afterthought. It takes seconds to download any app, and most users simply don't have the time or ability to look out for invasive apps on their phones.
Instead of sitting down and researching the security features of every app you might be interested in or going back and forth choosing between different apps based on cybersecurity, it's best to just download apps that are known to be non-invasive.
The 8 Most Private Phone Apps
In this post, we'll cover seven of the least invasive apps you can have on your smartphone. These apps will not collect personal data or install malicious code on your device. They are also designed to be as secure as possible, providing users with an extra layer of protection against security threats.
Internxt
Open-source and end-to-end encrypted, Internxt is the most private cloud out there and is available on all phones, devices, and operating systems.
Internxt is unique in that all files uploaded to the cloud are end-to-end encrypted and scattered across a distributed network which ultimately means not even Internxt can access your files and personal data.
A modern, ethical, and much more secure cloud alternative to Big Tech services, Internxt is exceptionally private, making it the go-to for storing and sharing sensitive information and confidential files.
Internxt is perfect for anyone concerned with sending files safely, thanks to password-protected and encrypted sharing links with enabled share limits. The service also syncs between devices and sports thumbnails and has a built-in photo gallery so you can conveniently view files and images without having to download them to your device.
Internxt is so ridiculously private that the company doesn't ever store your password, so if you lose it, you won't be able to log back in until you remember it.
Signal
Signal is a secure messaging app that uses end-to-end encryption to protect your messages. The company was founded largely because some companies in social media store communications of their users very often.
Security-minded people like journalists, government officials, and activists have since opted to use Signal instead of mainstream platforms to ensure their communications remain private.
The app has a built-in feature that allows you to set a timer to automatically delete messages (sort of like Snapchat) after they have been read or a certain amount of time has passed. This ensures that your messages remain private and are not stored or shared.
Suppose you're looking for a well-rounded alternative to mainstream social media platforms, text messaging services, or similar forms of mass communication. In that case, Signal is an intelligent choice to help ensure your communications are and stay only available to you.
DuckDuckGo
DuckDuckGo is a search engine that values user privacy above all else. The vast majority of internet users use Google for their searches and are unaware of just how much Google tracks their data
DuckDuckGo's search engine is just as good as Google, and it's not small by any means. It has over 100 million users per month. The service does not track users or store search history, making it a secure and private alternative to the many more popular search engines.
You can quickly start using DuckDuckGo by visiting their website, adding them as your default search to your browser, downloading their app, or using their extension.
DuckDuckGo is an excellent option for avoiding companies like Google that track and sells your data to advertisers on their platform. And it's not just Google you should be worried about. In fact, 85% of sites have third-party trackers. This includes the vast majority of e-commerce, news, and general websites on the internet.
When you use DuckDuckGo for your queries, visited searches' tracking tools are unable to farm and store your data. This is possible since DuckDuckGo does not store your search history, IP address, or other data that can be used to identify you. As a result, companies cannot use your data to target you with personalized ads or for any other nefarious purposes.
Telegram
Telegram is one of the most popular and secure messaging apps in the world. It offers end-to-end encryption, which means that messages are encrypted on the sender's device and can only be decrypted by the recipient.
One of the most attractive features of Telegram's messaging service is its self-destruct feature. This feature allows messages to be deleted after a certain period of time, making it an ideal choice for those who value privacy or anyone who texted before thinking.
In addition to being an extremely secure platform in general, Telegram also gives you the ability to enable further security settings, features like:
Secret chat: Secret chats can be enabled on Telegram, which ensures all of your conversations are secured using end-to-end encryption. You'll also be notified if anyone takes a screenshot of your conversation.
Ability to hide your phone number: Messaging apps can be filled with spam or fake messages. Telegram gives you the ability to hide your phone number. This can prevent your number from being shared, forwarded, or spammed by annoying parties.
Adding a passcode: On top of the other default features, you can choose to add a passcode or lock to your account. This gives you an extra layer of protection and one more safeguard for your privacy.
NordVPN
NordVPN is one of the most well-known brands in cybersecurity, and for good reason. The company offers a variety of features geared to protect user data, such as military-grade encryption and a strict no-log policy. It's comforting to know that NordVPN user data is never stored or shared.
With VPNs, the more servers and host countries, the better. And since NordVPN is relatively large and well-established, it offers a substantially wide range of servers in multiple countries, allowing users to access geo-restricted content from anywhere in the world.
The mobile app, in particular, is one of the least invasive apps on both the Google Play Store and the Apple App Store. It doesn't track your web activity, store your IP, or store any files you download. The app also comes with a few handy additional cybersecurity features like:
A dark web monitor
Automatic kill switch
DNS leak protection
Next-generation encryption
Firefox Focus
Firefox Focus is Mozilla's designated privacy browser. With Firefox Focus, you get a dedicated privacy browser for your smartphone, and that ensures all your search data and web activity stays private.
What makes Firefox unique is that you can easily remove your history, cookies, and passwords with a simple click. This makes it difficult for advertisers to track your data and follow you around in your search activities.
Firefox Focus is entirely free, and it gives you the ability to automatically block ads and other trackers. This gives you the power to protect your privacy and control your data without the need to pay for a subscription or special software. Free is good.
The browser is also faster than other browsers since it does not have to process any ads or trackers. Lastly, Mozilla is a great company when it comes to privacy, and its privacy manifesto is something all online businesses should replicate.
Proton Mail
Email apps are one of the most used and invaluable types of apps on smartphones. Your email account is a treasure trove of information any company or hacker would love to get ahold of. If an app can access your email, it can access all the data and information (yes, all of it) that is sent and received through that email account.
Proton Mail is designed to provide a secure and private email experience by encrypting all data resting on their servers and using end-to-end encryption to ensure that communications are covered, and only the intended recipient can read the emails. Proton's heavy security also makes it much easier to protect yourself against common email attacks like phishing and ransomware.
Proton Mail protects your privacy by encrypting your data by default. This includes all parts of your email service, like your calendar, file sharing, video prospecting tools, and more. In addition to this, Proton Mail also offers its own VPN service that allows you to browse and communicate privately with your email.
What makes Proton Mail different from other email providers is that they are subject to Swiss privacy laws, which are some of the strictest in the world. This gives you both the legal and technical backing guaranteeing your data remains yours.
Proton Mail is an excellent email service to pick up, especially if you work in sensitive industries like healthcare, which require HIPAA-compliant software. As a final bonus, you can download reports from ProtonMail that illustrate how secure your personal email actually is.
If you want to avoid getting over-spammed with unwanted emails, just use an email generator, when needed.
1Password
Password managers are notorious for being invasive, but 1Password provides password protection without all the shady storing and sharing of your personal data.
1Password is one of the most secure password managers on the market due to its liberal use of end-to-end encryption and two-factor authentication, plus its impressive ability to generate strong, unique passwords. On top of all that, 1Password also allows users to store their passwords and other sensitive information in a secure, encrypted vault, so their data is never openly exposed.
1Password complies with strict data regulatory guidelines like GDPR and CCPA. Your data, like passwords, credit card information, and other identifiers, are stored safely in the cloud. No one can access your data, like your IP address and usage data, without your consent.
Finally, the service can store your data like all password managers, but they avoid collecting your data unless it's required to store your passwords.

More Private Phone Apps for Hiding Data?
These eight apps are a great start to adding security and privacy to your mobile devices. In addition to using these apps, it's vital to make sure you stop using apps that compromise your security.
Some of the most popular apps that invade your privacy include the Facebook Messenger app, the Weather app, and the Facebook mobile app. Deleting these apps and installing the apps mentioned previously is a great way to start protecting your data and keeping your online activity safe.
The apps listed here are designed to protect your data and ensure that it cannot be accessed or read by third parties. They are also built with end-to-end encryption, meaning that only the intended user will be able to view the content of their messages. The apps above can protect against potential cybersecurity threats and help ensure that your data is safe and secure.
Although most smartphone users act cool, comfortable, and nonchalant, they often have little awareness of just how dire their privacy situation may be and typically have no idea how many potential vulnerabilities exist.
Stop risking your data when you can download these apps and protect against potential cybersecurity threats and be absolutely positive your data is safe and secure.