Is Roblox Safe for Kids? A Parental Guide For Safe Online Gaming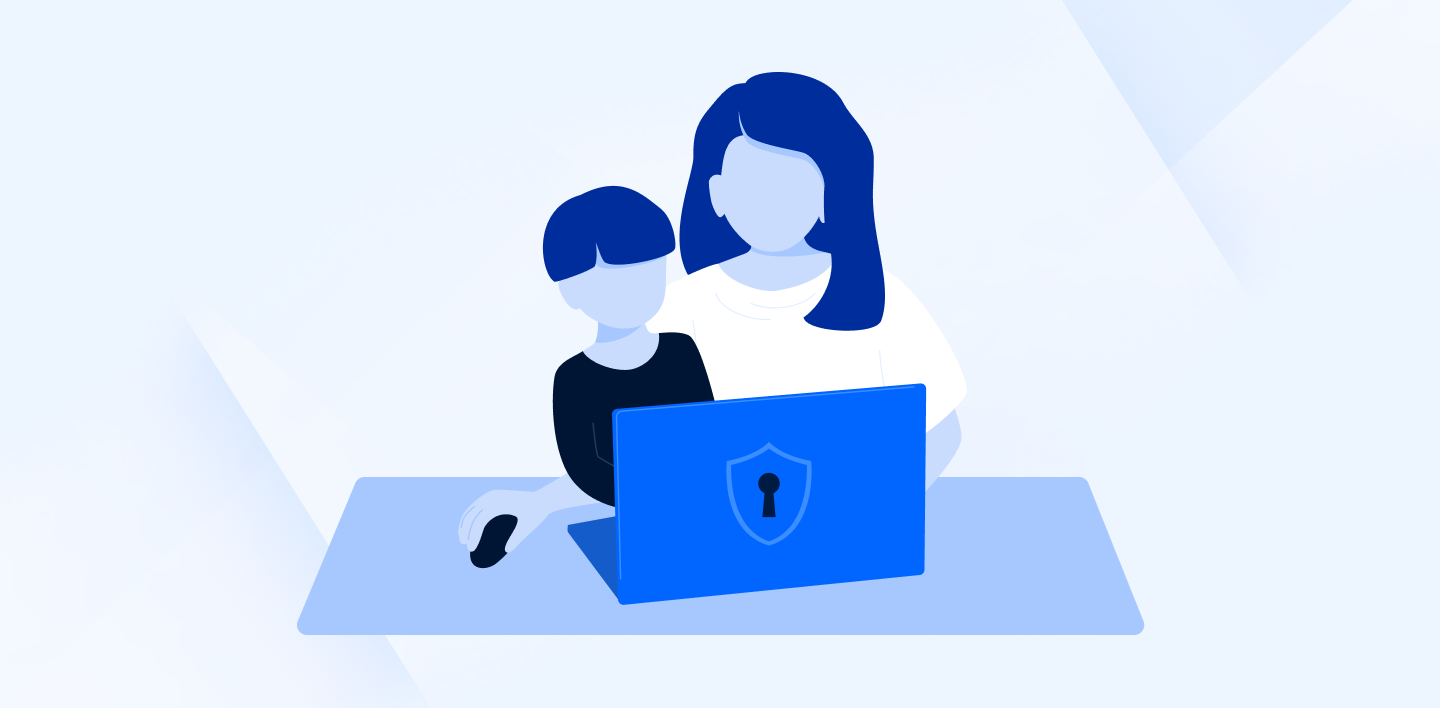 Sometimes, keeping up with our kids' online activities is hard because new trends constantly come and go. By the time parents have learned about what's popular, it's already been replaced by the next big thing.
One thing that has stood the test of time for kids, however, is Roblox. With 214.10 million monthly active users in 2023, Roblox is one of the most popular platforms for kids to let their imaginations run wild and build or participate in a huge catalog of games and experiences.
Due to Roblox's popularity, parents are naturally inclined to learn more about the platform and find out: is Roblox safe for kids?
This article offers guidelines for parents to understand: if Roblox is suitable for their child, the risks of popular Roblox games, and the history and features of Roblox, concluding with some guidelines to protect children on the platform.
What is Roblox?
Roblox is a multiplayer gaming platform allowing players to create personalized avatars and play games or experiences designed by other players - or create their own. Games in Roblox offer "experiences" in popular gaming genres, such as:
Roleplay
Adventure
Fighting
Obby (obstacle course)
Tycoon
Simulator
Children of all ages can play Roblox, but the platform as a whole is separated into these age categories:
Due to the increased risks of children being exposed to inappropriate content, messages, or games, the Roblox platform as a whole is recommended for 13+. Parents or guardians must activate parental controls for younger children to make Roblox safe for children under 13.
When was Roblox made?
David Baszucki and Erik Cassel started developing the Roblox platform in 2003, and they released the final product on September 1, 2006. The platform was not always safe for kids during its early years, as safe chat was not a feature until March 2007.
Safe chat was a feature introduced for players under 13 to talk with each other. The benefit of safe chat is that it limits communications in private messages to a predetermined set of messages that players can't change.
Is Roblox Free?
Yes, Roblox is free to play and download across multiple platforms and creating an account is free and secure. An impressive feature when signing up for a free Roblox account is that kids can't sign up using their real name, as shown below
This is a valuable feature when signing up to Roblox, as you can't log in if the system suspects the username is your real name, a major safety feature in helping parents take the first steps to protect children's personal information.
Like most free-to-play games, however, players are encouraged to spend money on in-game purchases or microtransactions using Robux, the platform's online currency, which children can use to spend on outfits or equipment.  
So, while Roblox is free and players can earn Robux in the game without paying, players are likelier to buy either Robux or a Robux gift card to get the items they want.
Robux is used as an incentive to help players progress quicker or buy equipment in popular Roblox games or experiences. Parents should be aware that if they don't set up their parental controls effectively, children can spend thousands of Robux on digital items without them knowing.

What Are Roblox's Most Popular Games, and Are They Safe for Children?
For the parents or guardians out there asking what is Roblox? And are met with rolling eyes by their kids, let's look at the most popular games available and what risks parents should be aware of if their children are playing these games.
The most popular games are also where the dangers lurk the most, and these are just three examples of the most popular games on Roblox.
Adopt Me: recommended age, 13+
Adopt Me is similar to The Sims, so players can meet friends, customize characters, and unleash their interior designer magic by creating customizable homes. As one of the most popular games on Roblox, Adopt Me is considered safe, but parents should treat this platform as suitable for ages 13+...
Why?
Adopt Me is filled with scammers that target younger, more vulnerable players, convincing them to trade their expensive items with the scammer in return for a more valuable item or even Robux. Once the player gives the scammer the item, they will leave the server, and the player has lost their item for good.
Other common scams on Adopt Me include inviting players to a room where they have to pay Robux or enter their password to enter. In return, they will receive a high-value Adopt Me item, but instead, they have left their account open to hackers or have lost their Robux.
Murder Mystery 2: recommended age, 13+
In Murder Mystery 2, players must escape the murder before they kill everyone. The twist of the game is that the only player with the power to kill the murderer is the sheriff. The game is more blind panic and chaos rather than focusing on developing a child's inner Sherlock Holmes, but it sounds fun nonetheless.
Murder Mystery 2 should be avoided for anyone under the age of 13, as recommended by Roblox, because of depictions of violence and gore. Additionally, the in-game chat feature is another potential concern, increasing the risks of harmful messaging or cyberbullying.
Hide and Seek Extreme: suitable for all ages
Rather than running around the house and causing destruction, Hide and Seek Extreme takes the old-school game and puts its own Roblox spin on it.
Teams are split into hiders and seekers with a special Roblox twist: hiders can change the environment around them, making it harder for the seekers to find them. Hide and Seek Extreme is one of many games available for all ages on Roblox, and parents can take a look at each game's features to see if it's suitable for their child.
However, these three games are just a minuscule portion of what's available on Roblox. They help demonstrate how even an innocent game meant to build a dream house and look after pets, like Adopt Me, can be a playground for scammers, cybercrime, or inappropriate themes.
What Are the Dangers of Roblox for Children?
Unfortunately, Roblox's popularity for children makes it a target for adults looking to exploit young people.
Adults over 25 on the platform comprise 14% of the game's demographics. Many of these players have good intentions and simply want to monetize their content by building games or streaming on YouTube or Twitch; others have more malicious, illegal, and dangerous motives.
1. Online Predators
Reports of Roblox predators have happened globally, and many parents have raised concerns about the messaging features. One Father from the UK was playing the Roblox using his 8-year-old's account and says an online predator messaged him within 15 minutes of playing the game.
In Australia, the parents of two young girls, aged 10 and 12, were sent inappropriate messages from online predators, which passed through Roblox's messaging filters by misspelling words.
One of the young girls was threatened by one of these predators who claimed to know where she lives. Despite the mother submitting multiple complaints to Roblox, it was only months later that they eventually banned the account.
Despite the measures Roblox says they are taking to prevent these problems, they are still happening. On October 21, 2023, a 27-year-old man from New Jersey, USA, was charged with kidnapping an 11-year-old girl from her home and driving her 135 miles away.
The two met on Roblox, and the parents had no idea the two were communicating on the platform. The man was arrested and charged with first-degree kidnapping and third-degree endangerment of a child's welfare, and the police took the girl safely back to her home.
Parents should know that via the settings page on Roblox, they can view and monitor messages their child receives or sends from the home screen and navigate to the messages tab, as shown below.

Monitoring messages occasionally will hopefully stop things like this from happening in the future.
2. Robux phishing scams and account theft
Players who spend the Robux, either from purchasing from the store or a Robux gift card, can use it to buy luxury items that help them stand out from other players. For example, the most expensive in the Roblox shop is a hat accessory, the Violet Valkyrie, which costs $625, or 50,000 Robux.
Due to the high status and costs associated with particular items, kids as young as 13 are setting up phishing scams to target players with high-value items, either on Roblox or its many discord servers.
These phishing scams attempt to gain access to the personal information associated with the accounts with the most valuable clothing or equipment.
If they gain access, the scammers will empty the account's wallet or steal and sell the account's virtual items on third-party websites outside the Roblox platform, like Bloxflip. These platforms allow players to sell, trade, or gamble their stolen items in exchange for Robux or more valuable items.
3. Microtransactions
Parents should also be aware of the security settings they set up on their accounts related to spending restrictions and limitations of spending Robux or a Robux gift card. One report from the UK reported a 10-year-old child changed the account password to the Robux account and made purchases totaling over $3,000.
You can limit the dangers of Robux micro-transactions or theft by setting monthly spending restrictions on the account. The default cost is 0, so your children won't be able to purchase anything without permission. Here's how:
Log into the account
Click the gear icon in the upper-right corner
Select the settings option
Select the Parental Controls option
Toggle the Monthly Spend Restriction to On
The default input is 0 when the toggle is on
If necessary, input the desired monthly limit
4. Excessive screen time
Parents may find it challenging to establish boundaries in online gaming for their children and may not notice the damage of too much gaming until it becomes a bigger problem for a child's mental health or social skills.
Too much gaming is not just a problem on Roblox, and now that extensive research is happening to raise awareness of the risks of too much gaming in children, it has found that:
Boys are more likely to show negative symptoms of too much gaming
Video games contribute to poor sleep, academic performance, mood, and well-being.
They may have depression, anxiety, shyness, and aggression.
Children with Attention Deficit/Hyperactivity Disorder (ADHD) may be particularly vulnerable.
Playing video games for extended periods increases the chances of obesity.
Experts in this subject recommend that young people limit their online gaming to between 1 and two hours a day.

5. Condo Rooms
Condo rooms are rooms that Roblox users create that may allow for inappropriate messages, content, images, or activities between children and adults.
Other condo games can depict excessive horror or violence or expose kids to online chat messages that put them at risk of being exposed to online predators.
Roblox says these games are often taken down within an hour by its moderators, and you would need to actively search for them to get access. Despite this, kids may still be lured into these rooms by online predators or even on social platforms outside of Roblox without their parents knowing.
The best way to avoid accidental entrance into condo rooms is by setting up parental controls that limit what games can be played and how to set up a child's account so their profile remains anonymous and protected from harmful content or people.
How to Set Up Parental Controls on Roblox to Keep Children Safe
So, is Roblox safe for kids? It can be with the proper parental controls, guidance, cyber awareness. But, like everything on the internet, nothing is 100% safe, and despite the efforts of Roblox, there are still reports of inappropriate behavior, messages, scams, and cyberbullying.
Therefore, the key to keeping Roblox safe for your children relies on parental controls that limit interactions with children and keep them safe from harmful content. Let's examine the most effective controls to help kids enjoy Roblox.
Setting up Roblox Account Restrictions
First, you need to access the settings associated with your child's account. You can do so by clicking the gear icon on the top right of the screen, which will take you here:
This page has everything you need to set up strong privacy controls, from the tabs on the left-hand side, you can ensure that Roblox is safe to play for your child. Let's look at the first step you should take.
1. Set up a Parental Pin
By setting up a PIN or other authentication methods, you limit control over who can activate or deactivate specific settings, so your child cannot change any features, such as age or spending restrictions for Robux. To set up your PIN, from the settings page, click Parental Controls on the left
The PIN is disabled by default; to activate it, click the right toggle icon, and you will be prompted to enter and confirm your PIN.
Once added, the safety features you turn on to protect your child cannot be changed without your PIN, keeping them safe from inappropriate messages, spam, and games. The importance of a PIN, alongside a strong password, are effective measures you can easily take to protect your child and their Roblox account.
If you want to pass on good password management to your kids, you can teach them from a young age to use a simple but effective password generator. By teaching and encouraging your children to easily generate secure passwords, you can help protect them and their accounts from cyberattacks.
2. Enable Account Restrictions
The most important feature for parents is the account restrictions setting, accessed from the left-side privacy tab on the settings page.
You can enable account restrictions from the privacy page by clicking the toggle on the right-hand side.
Once enabled, no Roblox user can send messages, text chat, or see their inventory. These changes limit exposure to online predators or Robux gift card scams, and stop kids from accidentally entering a condo room or being invited to one.
Again, you can limit who contacts your child to friends, followers, or everyone under the Other settings section, located further down the page.
But until you are sure how your child uses Roblox and who they are playing it with, it is best practice to keep these settings turned off until you are fully aware of how your child uses the Roblox platform.
3. Report and block players
Roblox says they constantly moderate content, the platform, and inappropriate users, communities, or messages, but sometimes, it can be months before Roblox takes action against a user.
Luckily, parents and children can report and block players from contacting them by blocking the player in the game. To do this on the website or app:
Visit the player's profile.
Click the three dots in the upper right corner.
Select Block Player.
To report a player for abuse, breaking Roblox rules or other policies, follow these steps:
Select the menu button (Roblox logo) at the screen's upper left.
Select the flag icon next to a user's name, or select the Report tab at the top of the menu.
For Game or Player? Select the Player tab.
Select the Which Player pull-down menu, and find the username to report.
Select the Type of Abuse pull-down menu and find the inappropriate action.
Select Submit to finalize.
Roblox Support will investigate and come to a decision based on their policies.

Working Together to Keep Children Safe on Roblox
Ultimately, if parents want to know, "Is Roblox safe for kids?" it is, but only when suitable privacy measures are in place to keep children's details hidden and safe from external threats.
Sometimes, awful things happen on Roblox, but these can be limited with the right parental controls. Perhaps more importantly, let your children know you are there to protect them online so they feel comfortable coming to you directly if an issue occurs.  
By engaging in conversations with children, parents can find out:
Why your child likes playing the game, features, characters, skills, etc
Who they are playing with. Do they know everyone on their contact list? If they receive messages from someone they don't know, they should tell you about it.
Tell them never to share passwords, emails, numbers, or their names with someone on the internet.
By looking at video game safety as an investment and a journey, we can help prevent the dangers of video games and adapt to the online environment together.