Dropbox Pricing: Everything You Need To Know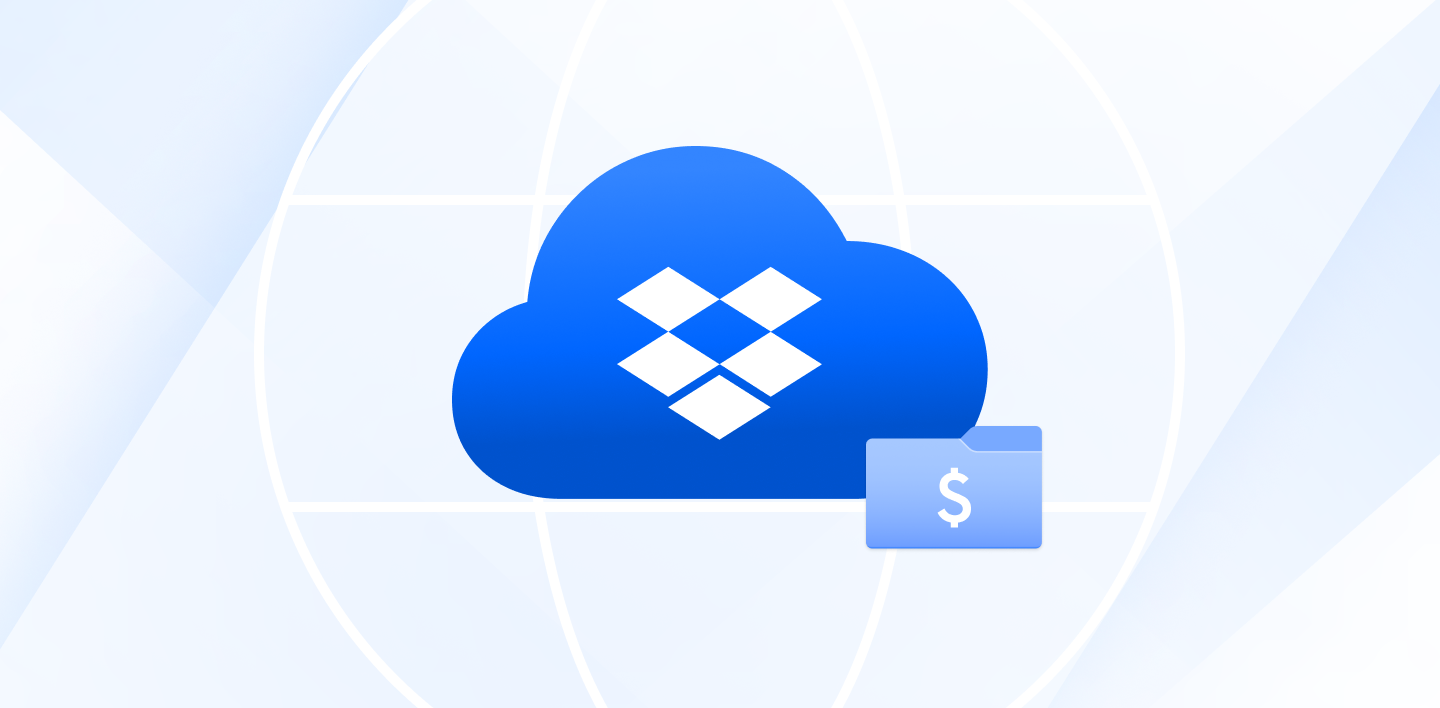 Your company is growing, and so is your data. That's a very good thing! But you don't want to become completely overwhelmed with all your positive growth.
As your business expands, thrives, and grows, you're quickly going to find that you need one centralized and secure location to keep all of your company's files and important documents.
Sure you have a large hard drive that supports all you need now, but will it hold up to future demands and all your data is really safe inside it. If some misfortune or natural disaster happens and you lose the hard drive or it gets taken out in a fire, what will you do? How will the company continue running without ongoing project documents and data?  
It's not a bad idea to invest in cloud storage and cybersecurity. You need a backup plan, something convenient and scalable where you can safely keep all your data safely and access it from anywhere.
Keep calm, there's still plenty of time to prepare for worst case scenarios, and fortunately there's a solution to this specific problem: Dropbox.
Here, you'll learn everything you need to know about Dropbox pricing, plans, benefits, and features. So, is Dropbox's cloud storage service right for you and your needs? Let's find out and let's get started!
What Is Dropbox?
Dropbox is a cloud-based file hosting software that was founded in 2007. Dropbox's secure platform is home to 700 million-plus registered users. It's one of the big names in the cloud storage industry and for many the name "Dropbox" is synonymous for any type of cloud.
Besides cloud storage, the service offers many useful features such as file synchronization, access from anywhere, file sharing, and more. With Dropbox, you can collaborate with personal friends and professional coworkers from any Android, Apple, or other internet-capable device.
Dropbox succeeds in helping to keep your life and work organized and manageable. The service is simple to use and gives you an option of generating Dropbox links allowing you to share any file or a folder with people you trust.
What Can You Do With Your Files With Dropbox?
Dropbox has a ton of features and below are the six biggest and best benefits to using Dropbox:
Store and sync files
You can easily store your files, organize them, and access them from any phone, tablet, or laptop. Enjoy having one central location for all your digital media that can be accessed anywhere and at any time.
Share and send files safely
You can share any file, big or small, with anyone. The best part is that the receiver can receive files even if they don't have a Dropbox account. Dropbox also promises file safety and is trusted by millions of its users. Though not the most private in terms of security, it's a good file sharing and storage service for keeping your files private with its built-in features.
Collaborate with anyone
Lots of professionals rely on Dropbox as it allows you to manage multiple tasks, track file updates, and sync with your teammates, employees, or clients. Dropbox offers a wide variety of features and offers heavy support in storing, organizing, and managing your data in a broader sense.
Simple integration
For example, Dropbox can integrate with Salesmate via Zapier, and through this integration you can easily save your files with a note attached or you can add new related contacts in Salesmate. Dropbox also works with a huge assortment of other apps as well. Odds are good Dropbox will work with whatever software you rely on.
Wide adoption
Almost every industry, like education, media, construction, technology, and so on, uses Dropbox extensively. According to a Research Report 2022 by Backlinko, there are around 15.48 million paid users. More than likely your peers, clients, and even competitors use the service as well.

Dropbox Pricing
Dropbox pricing depends upon the number of users per account so, generally, how many people you want to host on your plan will dictate which option is the most suitable for you.
Dropbox broadly has two plan categories: Personal plan and Business plan. These have further subcategories split by the amount of storage and user count. The features offered may also vary from plan to plan. Below is detailed information about each Dropbox pricing plan.
Dropbox Personal Pricing Plans:
Plus Plan: For individuals
Paid yearly: $9.99/month
Paid monthly: $11.99/month
Dropbox storage: 2TB
User access count: 1
Family Plan: For family and friends
Paid yearly: $16.99/month
Paid monthly: $19.99/month
Dropbox storage: 2TB
User access count: Up to 6
Professional Plan: For freelancers
Paid yearly: $16.58/month
Paid monthly: $19.99/month
Dropbox storage: 3TB
User access count: 1
Dropbox Business Pricing Plans:
Standard Plan: For growing teams
Paid yearly: $15/month/user
Paid monthly: $18/month/user
Dropbox storage: 5TB
User access count: 3+
Advanced Plan: For complex teams
Paid yearly: $24/month/user
Paid monthly: $30/month/user
Dropbox storage: Unlimited
User Access Count: 3+
Enterprise Plan: For established organizations
Paid yearly: Contact Dropbox sales for pricing
Paid monthly: Contact Dropbox sales for pricing
Dropbox storage: Unlimited
User Access Count: Customizable
Dropbox Free Trial
Always try before you buy and never ever jump into a big purchase without trying a product first. Whether you're impressed by an application's flashy advertising or a friend gave you a "good" recommendation, don't dive in head first and invest right away. Get a free trial and then find out whether the application works for you or not. You might be wondering:  Is Dropbox free to use?
Dropbox offers free 30-day trials for individuals under a Personal Plan or solo workers under a Professional Plan. It's smart to leverage all the functions offered under their free plan and you then look for an upgrade if the basic free plan works for you but you need more storage. You can also check a free online byte converter tool to check the amount of storage you have left.
Dropbox's free plans are especially great for solo professionals who do not require premium features. With the basic free Dropbox plan, you will get 2GB of secure storage and the account can connect up to 3 devices. Also, the plan comes with an automatic computer file backup feature.
If your workflow increases and you find you need more features or storage, then it may be time to upgrade your Dropbox account.
Upgrade Your Dropbox Account
Are you a Dropbox user wondering how to upgrade an existing basic account?  
If you are currently an active user of Dropbox and find it nifty for your work needs, then you can easily upgrade your existing basic account to gain more features and storage. You can upgrade a Dropbox personal or professional account into a larger personal or business account by simply visiting your account settings and opting in. It's that easy!
Dropbox Perks
Dropbox is long in the tooth and has the trust of its millions of users. Its unique collaborations with software like DocSend and HelloSigh make Dropbox still extremely relevant and current for many cloud users. This commitment to integration with pertinent business-oriented apps is one of the biggest reasons why Dropbox has remained so successful since 2007.

Is Dropbox Right For You?
Dropbox attracts users with its many core features, including its leading Sync service, its anytime-anywhere dominance feature, its fast and easy secure sharing, its 256-bit AES and SSL/TLS encryption.
With so many options in plans, Dropbox aims to offer the best service possible at a reasonable price point. Each plan is set up to save time by keeping your personal needs in mind. Dropbox is a well-balanced and widely-used cloud storage option that will satisfy the needs of most users out there.
Before you go all-in on Dropbox, be sure to try out the functionality of the service before throwing your hard-earned money around. Start with a free Dropbox basic account and if it is right for you, congrats, you've found your cloud!
If Dropbox doesn't feel right or you want a Dropbox alternative with a bit stronger security and a stronger commitment to privacy, you might want to think about Internxt.
Give Internxt a try! Whatever service you decide is right for your cloud storage needs is totally up to you. Find one that checks all your boxes and does right by your data.