13 Best Cybersecurity Podcasts Worth a Listen in 2023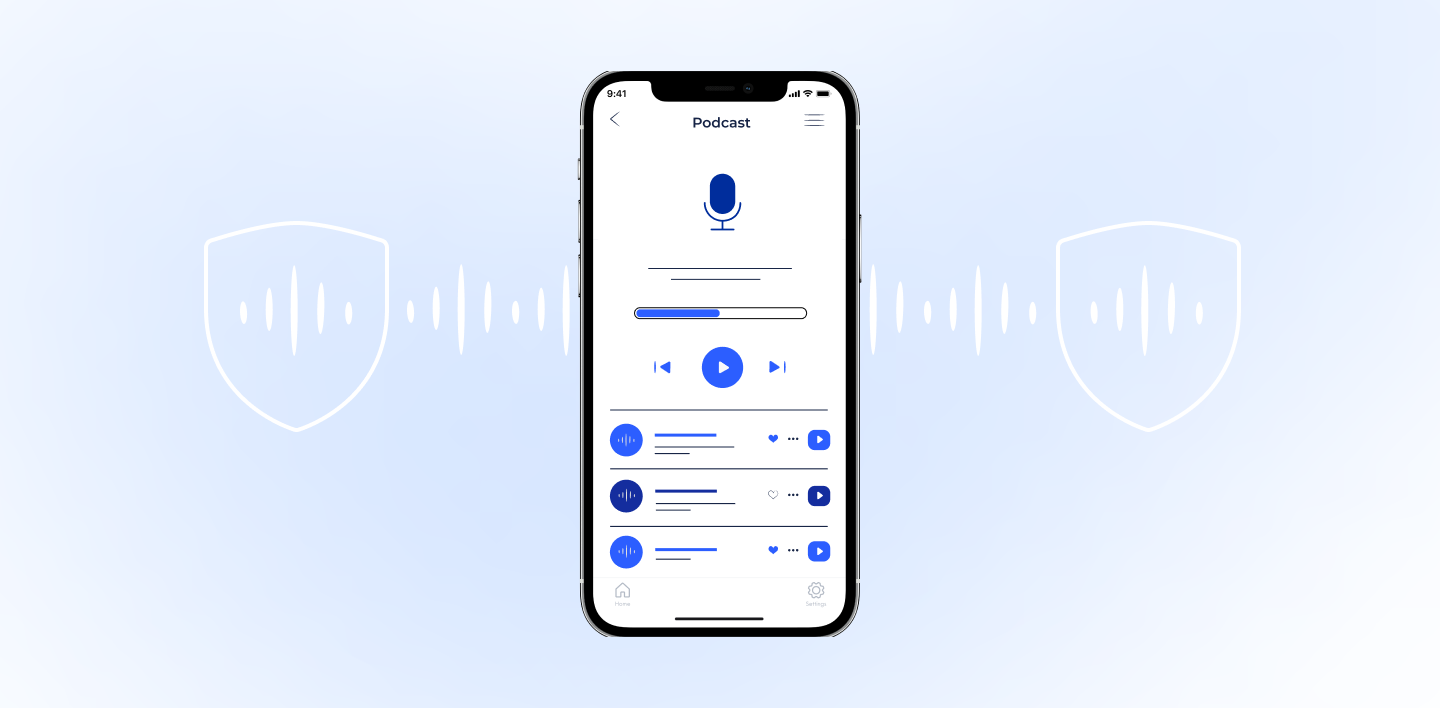 The internet is called the Web for a reason. Every bit of online data is woven and tied to every other bit of data. And as more and more of our lives move over into the digital world and our information gets tied up in more and more services than we can keep track of, regular people are starting to take notice.
It's no wonder the general interest in protecting online security and privacy increasing.
As there is so much new information online, it can become difficult to keep up with everything. Also, staying in the know can be time-consuming and often overwhelming.
How to stay up to date with all things internet without losing your mind? Open your ears and your mind, we've prepared a hand-picked list of 13 of the best cybersecurity podcasts to listen to in 2023.
These podcasts cover all topics related to online privacy and security. Podcasts are great as you can easily integrate them into your daily life and they offer a little more context and insight than news stories full of doom, gloom, and runaway sensationalism.
Whether you are walking to work, going to a gym, or cooking up dinner, you can now always be up to date with the latest cybersecurity news. Below you will find all our favorite cybersecurity podcasts. Listen up and enjoy!
Darknet Diaries
Jack Rhysider started Darknet Diaries investigative podcast back in 2017 to talk about the "tales from the dark side of the Internet".
Since then the podcast has grown massively due to its investigative nature. Jack presents real-life stories about data breaches, hacking, malware, cybercrime, and more. Anyone that is interested in their online privacy and security will find this podcast chilling and will certainly take some action to protect themselves online
Darknet Diaries is a great podcast for anyone who wants to learn more about online privacy and the erosion of digital rights. The content is amusing, not too geeky, and educational. You definitely don't have to be an expert in IT to enjoy listening to this podcast.
Down the Security Rabbithole
Down the Security Rabbithole podcast was founded in 2011 by Rafal Los, a highly respected security expert and an active member of the Security Advisor Alliance. Rafal is co-hosting this podcast together with James Jardine, an expert in application security.
This podcast aims to educate listeners about cyber security from a business standpoint. In Down the Rabbithole, industry experts discuss weekly business-related risks, threats, hacks, and more.
This entertaining yet educational podcast will suit anyone who is interested in their business'security.
Smashing Security
Smashing Security was founded in 2016 by Graham Cluley and Carole Theriault. Since then it has won several awards such as the "Best Security Podcast 2018" and "Best Security Podcast 2019". Both Graham and Carole are well-known computer security experts, so they know a thing or two about online security.
Smashing Security is a hilarious podcast that will give you a better understanding of cybercrime, hacking, and user right to privacy. Episodes are released weekly and are very informative without being too stuffy. You will find not only real-life stories but tons of interviews with cybersecurity experts.
Unsupervised Learning
Unsupervised Learning was first launched in 2015 by digital security expert Daniel Miessler. Since then, this podcast has gained huge popularity. Daniel explains the most important cybersecurity and technology news simply, yet intriguingly. This podcast is great for anyone who is interested in cybersecurity and how it will shape the future of humanity's digital lifestyle.
BarCode
This podcast is different from any of the other cybersecurity podcasts that we have already mentioned. Chris Glanden, who has been working in the security industry for over 20 years, founded Barcode in 2020.
As the Covid-19 pandemic was taking place, Chris saw the need to find an alternative way to discuss cybersecurity topics in a relaxed atmosphere without a physical audience. Every week Chris invites Tony, a bartender, to discuss cybersecurity news, threats, and the latest developments. This podcast is great because it feels like a chat with good friends. Grab a stiff drink and tune in!
The Social Engineering Podcast
That's right, this podcast is all about social engineering (SE). The creator of this podcast, Chris Hadnagy, describes SE as "any act that influences a person to take any action that may or may not be in their best interest."
Every month a panel of security experts gathers to host a discussion about human behavior and its involvement in the cybersecurity field. They discuss various topics including misinformation techniques, fraudsters, online privacy, SE psychology, SE attacks, and more.
This podcast aims to help the listener to understand what SE is and how it is now being applied throughout society to gain an unfair advantage.
7-Minute Security Podcast
This podcast is perfect for anyone that wants to get all the tech and cybersecurity information they need in the shortest format possible. Founded by Brian Johnson, a security consultant, this podcast gained huge popularity due to its short, yet very informative, format and unique content with a twist of comedy.
Our favorite episode is GDPR Me ASAP, where Brian summarizes how this privacy regulation is responsible for you receiving even more annoying emails.

The Shared Security Show
This podcast was launched back in 2009 by Scott Wright and Tom Eston. Back when the cybersecurity topic wasn't as hot as it is now. Scott and Tom started this podcast to educate listeners about social media and its effect on people's privacy and security.
If you can remember, Facebook was booming then with over 350M registered and 132M active users. Of course, the podcast's topics have broadened as now we have smart devices, VPNs, cloud storage, and more of the like.
Every week Scott and Tom invite cybersecurity experts to discuss cybersecurity news and current trends. The podcast's mission is to provide tips and advice on how to be more secure in the nowadays online world. Pick up this podcast if you want to learn how to stay safe online!
Cyber Wire Daily
Cyber Wire Daily is a news podcast dedicated to online security news and analysis. It was founded in 2012 and since then has recorded more than 600 episodes.
Cyber Wire aims to inform and educate listeners by avoiding news that is just "noise". It's a quick daily update for anyone that is looking for concise, relevant, and relatively short (less than 30 minutes per episode) bits of information.
Risky Business
Risky Business is one of the first information security-specific podcasts ever created and was founded in 2007 by Patrick Gray. Patrick is an award-winning journalist and he runs in-depth interviews with many top tech industry professionals. This podcast is a MUST for every security or computer science professional.
Security Now!
Security Now was launched in 2005 by Leo Laporte and Steve Gibson. As it's one of the first podcasts of its kind, it can feel and sound a bit old-school (still), but it's definitely interesting!
The episode's runtime may be too "lengthy" (up to 2 hours), but it covers in detail everything on the topic of cybersecurity in-depth. This podcast aims to aggressively educate about personal security and introduce listeners to cybersecurity news from all corners of the globe.
401 Access Denied
Another award-winning podcast, 401 Access Denied is a podcast hosted by ethical hacker Joseph Carson. Jason interviews cybersecurity professionals once a week to discuss the most relevant topics in IT and make this information available for everyone interested in cybersecurity.
Told from a fresh and unique perspective, 401 covers such topics as security threats, helping secure your kids online, hacking, and much more.
The Human Factor Security
It's not difficult to guess by the name of this podcast that it has something to do with us, humans. The podcast creator Jenny Radcliffe, also known as the "People Hacker", talks about social engineering and cybersecurity. Jenny is also well known for delivering keynote speeches at TEDx, Infosec, etc., and is a master at getting her audience to think outside the box.
Open up your minds and dive into the world of human behavior, social engineering, and biosecurity with Jenny as your guide. It's out there, but I promise this podcast will not disappoint you.
The Best Cybersecurity Podcast?
What security podcast is best for you? Every single podcast on this list is worth a try. Check them out and see which hosts your click with. They are all interesting and each one has plenty to say about the current state of our shared virtual world.
Discover how to protect yourself online, learn about the optimistic future of Web3, and hear what digital rights organizations are doing to safeguard your privacy! All you need is a speaker and a pair of ears.
Want a few more quality media recommendations? Check out our list of the 18 best cybersecurity movies ever made!