Proton Drive vs Google Drive: Cloud Storage Privacy or Convenience?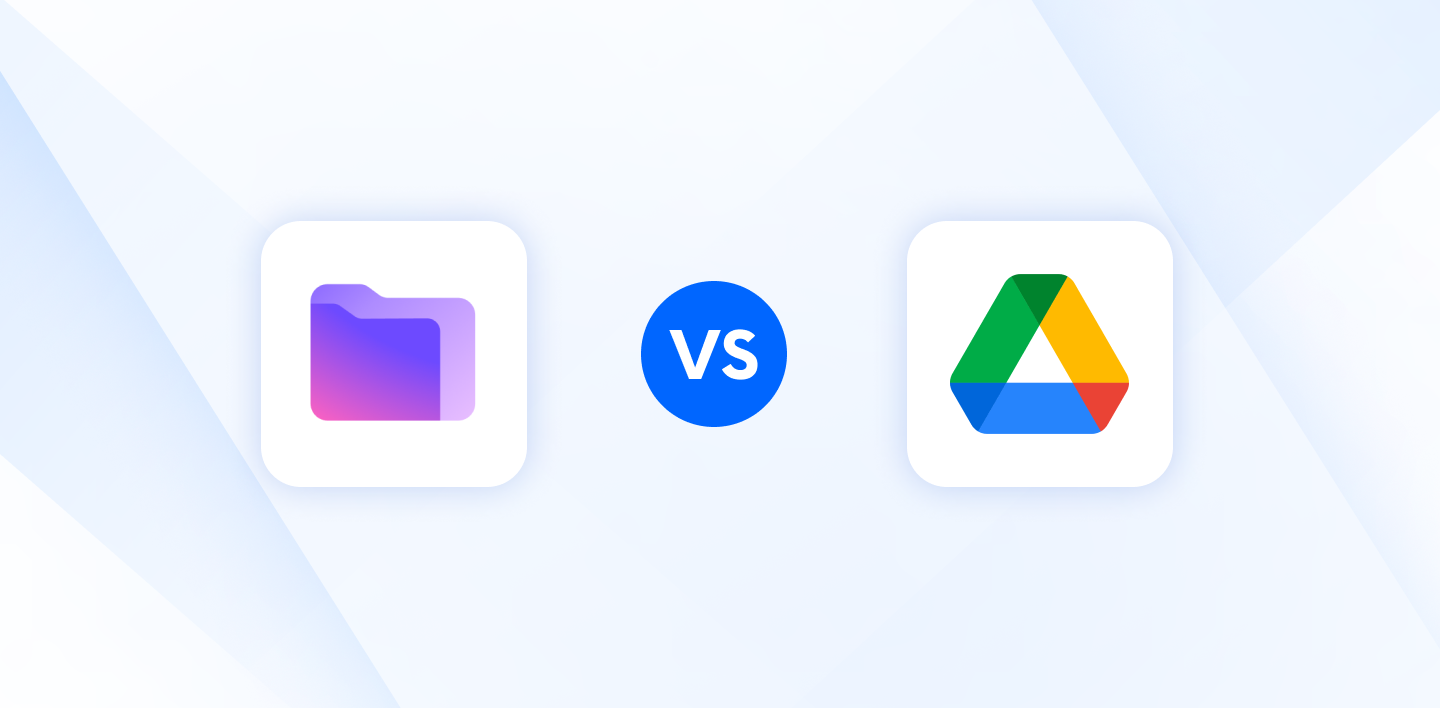 Big name or underdog? Privacy or convenience? Proton Drive or Google Drive?
Google Drive has a long history and is the usual top dog when it comes to online cloud storage and collaboration. Proton Drive is new, and rather than try to go toe-to-toe with Google in size, it has instead chosen to take the high road and focus on privacy.
Both services have plenty going for them, and both clouds have a few dark spots that could be improved. So when it's all said and done, which cloud service is better and which one is right for you?
Below, learn all about Proton Drive and Google Drive. Find out what features they offer, see how much they each cost, and discover if there is a better alternative to these two services or if you're better off committing to one or the other.

What Is Proton Drive?
Proton Drive is an end-to-end encrypted cloud storage service from Switzerland. Proton is big on data privacy and security. Proton Drive is the company's newest service. It has recently joined its ecosystem of security-focused web products, including Proton Mail, Proton Calendar, and Proton VPN.
Proton Drive uses end-to-end encryption on all file content, file names, folder names, and data paths. Basically, the user is the only one with access to the information they save on the service (sound familiar?). The service works like most other file storage services, except everything is also encrypted.
Proton Drive currently has very few advanced features, but it has many of the basic cloud storage features, like sharing and custom folders. Proton has no absolute upload/download limits yet. Your available free storage space is the only thing that limits the size of the file you can upload. In other words, if you have 1GB of unused storage, you can store a file of up to 1GB.
Like Internxt, Proton Drive is open-source, so anyone can verify that our encryption works as described. Proton is also independently audited and has a stellar security model.
Though advertised as safe and secure, Proton is not without its few quirks. Deleting files in Proton Drive can take up to three hours to completely clear the storage space. Far from perfectly polished, Proton Drive is an aspiring competitor to other zero-knowledge cloud storage services like Internxt.
Proton Drive has a good idea going for it, but the tiny size of its free service (500MB, up to 1GB) is upsetting, plus the service still needs a few kinks worked out. Proton's other services are ok and undoubtedly a safer web service alternative to Google.
Proton Drive Pricing:
1GB: Free
15GB: €3.99/month
Unlimited: €9.99/month
What Is Google Drive?
Google Drive is the most well-known cloud storage service on the market. Many people use it mainly because it is straightforward, and its free version is quite generous. Moreover, the service is handy for collaboration and file sharing.
Google Drive bests many other services due to its vast ecosystem, which aids in collaborative activities, making it one of the most simple and user-friendly cloud storage services. Google provides a wide range of services, its Drive service interface is self-explanatory, and they excel at ensuring that all of those services work and operate effectively together. Also, they have many third-party integrations that add value to their benefit.
In short, Google Drive allows you to effortlessly create content, save files, collaborate with your team, and do various other activities. Their mobile app is available for Android and Apple too.

Google Drive Pricing:
15GB: Free
100GB: €1.75/month
200GB: €2.65/month
2TB: €8.85/month
What Cloud Is Best for You? Differences Between Proton Drive and Google Drive
Ultimately, the choice comes with security, safety, and privacy against convenience, functionality, and collaboration.
Is Google Drive secure? Google Drive is the industry standard for a reason and if you need a cloud storage service for collaboration or content creation, it's more than doable. But if you just need secure storage and you value privacy above all else, Proton Drive may eke out the win. That said, Proton may beat Google but a more secure and private alternative is available. More on that is below.
Both interfaces are clean and attractive, and both work as expected. At this point in time, many cloud services all do the same thing in the same way, at least on the front end. If you've used a cloud service before, you'll have no problem picking up Proton Drive or Google Drive.
Google Drive blows Proton Drive away in terms of the number of features. For most casual users, Proton's service may be enough. Collaboration is virtually non-existent on Proton, but it does have integration with its Proton Mail and Calendar services. Though still lacking behind Google's sheer ecosystem size, Proton, much like Internxt, is one of the few cloud services that offer an inclusive ecosystem that doesn't infringe on user privacy or monetize user data. Privacy is always cool.
It's tough to recommend Proton Drive in its current state, especially when Internxt offers even better privacy in a more mature package. The same goes for recommending Google Drive. Google Drive is great overall, but the company has an abysmal track record regarding privacy and ethical data use.
Choose a Better Alternative to Proton Drive and Google Drive
Is Google Drive secure? In summary, Google is atrocious when it comes to privacy and digital rights. Proton beat Google hands down in that regard, but Proton Drive is young and still leaves a lot to be desired. So, what are you supposed to do if you care about privacy and convenience?
Internxt is the only logical answer! Internxt is an open-source, encrypted cloud storage service designed for absolute privacy and security. Internxt's cloud storage was end-to-end encrypted before Proton Drive was in its alpha, and though comparable, Internxt currently has more going for it.
More secure than Proton and way more secure than Google, Internxt cloud uses nothing but zero-knowledge technology, so all data and files saved to their cloud are fully encrypted and secure.
With smooth-running mobile, desktop, and web apps, all your files can be easily synced from your phone or laptop and accessed from different devices. It is well-designed, easy to use, and available on all devices and operating systems.
The best part? You can start with a 10GB plan entirely for free! Private cloud storage before it was cool, Internxt is a true original.