7 Best MEGA Alternatives and Competitors: Pros, Cons, and Pricing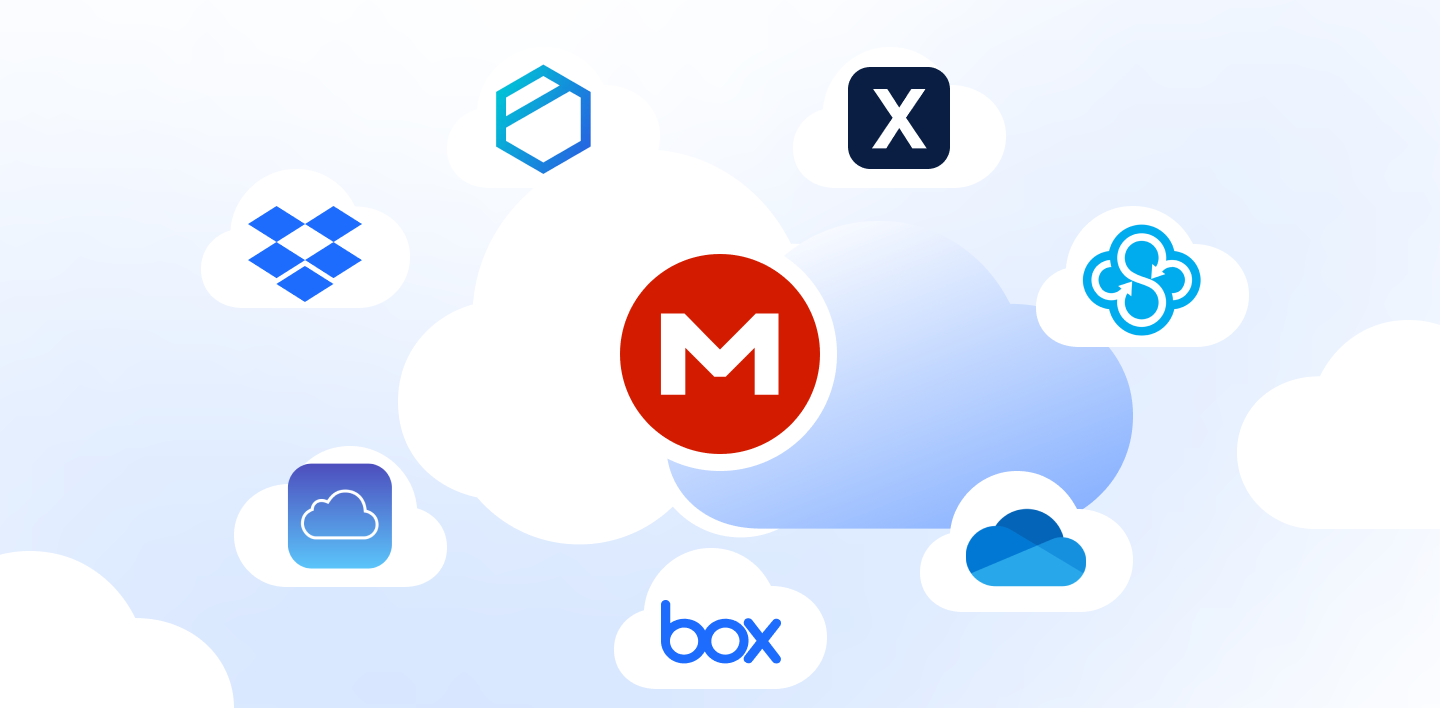 MEGA cloud storage launched in 2013 as a successor of a now-defunct file hosting service Megaupload. MEGA quickly grew into a cloud storage behemoth by making itself stand as an impressive zero-knowledge and easy-to-use cloud storage service equipped with end-to-end encryption.
Like its predecessor Megaupload, MEGA is synonymous with internet culture and file storage for many savvy tech-users worldwide.
In addition to transit encryption MEGA now has many great features such as free and paid plans, storage variety ranging from 15GB to 16TB, synchronization across devices, and Windows, Mac, Linux, Android, iOS compatibility.
It's no surprise that MEGA has grown to be a major player over the last decade with such robust offerings. That said, the service has some very prominent critics. For example, Kim Dotcom, the legendary internet entrepreneur who created MEGA in 2013, has publicly stated (numerous times) that he no longer trusts MEGA after leaving the company in 2015.
His words alone could be taken with a grain a salt, but facts don't lie and there are several essential security components that MEGA is lacking. While the service does support 2FA and is GDPR compliant, it's not open-source and independently verifiable.
What more worrisome (and what made us write this article in the first place) is the recent news that broke on June 23, 2022. Researchers have found fundamental flaws in MEGA's encryption scheme. MEGA can read your data.
In addition, the researchers stated there are at least five different types of attacks that MEGA is openly vulnerable to:
RSA Key Recovery Attack: MEGA can recover a user's RSA private key in only 512 login attempts. RSA private key is used to generate digital signatures and for authentication.
Plaintext Recovery: MEGA can decrypt other vital materials, like node keys and by using them can decrypt all of users' files and communication.
Framing Attack: MEGA can insert dummy files into the user's storage which are indistinguishable from the original uploaded file.
Integrity Attack: MEGA can accomplish the same result as with framing attack but an integrity attack is much less stealthy.
GaP-Bleichenbacher Attack: MEGA can decrypt RSA ciphertexts, which are used for encryption, making them ineffective.
Security is and should be the top priority for anyone interested in cloud storage. Making sure you are safe and secure from preventable issues is paramount.
Looking for solid and secure competitors to MEGA cloud storage? Don't worry, Internxt has your back! Below, we'll walk you through the best 7 MEGA alternatives:
Internxt
It's our blog, after all, so we're putting Internxt first on this list. Internxt is the safest bet when looking for a zero-knowledge cloud storage service with best-in-class privacy and security.
If you haven't tried Internxt yet, our open-source cloud storage is worth your time. It stands out from MEGA because it is open-source, which means anyone can verify its claims by simply checking the code.
In addition to that, Internxt is easy to use and can conveniently help you access your files on any device with its automatic syncing capability. It keeps your information updated and saved regardless of your device. The service also ensures the safe distribution of your encrypted files across a peer-to-peer network. Internxt has no access to your data, and your privacy stays yours. They also have Internxt Photos, a photo-sharing app, and Send, a file transfer service.
Pro: Built on the blockchain with end-to-end encryption, the safest and most secure service available
Con: Young service, still implementing new features
Pricing:
10GB - Free
20GB - €0.99/month
200GB - €4.49/month
2TB - €9.99//month
Annual plans are also available.
Google Drive
Google Drive is the obvious choice if you are just starting your journey into the wide world of cloud storage. It offers everything you can think of and is used by pretty much everyone and their grandma, so there will be no problems if you are working on any collaborative projects.
Its sleek and simple design is easy to use, and it has an advanced free version which is more than enough for most users. However, we you understand that the use of Google products and Google Drive comes with a hefty privacy pricetag. The service is super convenient for collaboration and file sharing, but if you want your information to stay private and secure - we suggest looking elsewhere.
Compared to MEGA, Google Drive excels with its massive ecosystem that helps in collaborative efforts, making it one of the most straightforward and user-accessible cloud storage services.
Pro: Big ecosystem shared by many users making it great for collaborative work
Con: Google makes its money selling data, so it is not a very safe and secure choice
Pricing:
15GB - Free
100GB - €1.75/month
200GB - €2.65/month
2TB - €8.85/month
Annual plans are also available.

Dropbox
Dropbox, just like MEGA, is synonymous with cloud storage for a massive portion of the world. Founded in 2007, it was the essential software until new cloud storage choices eventually appeared.
Designed with service and functionality in mind, Dropbox remains one of the most well-known cloud storage services. Dropbox has a lot to offer. Like Google Drive, it provides remarkable performance for file syncing, sharing, collaboration, and integrated tools.
However, like with Google Drive, if you care about your privacy and security, Dropbox should not be your choice.
Pro: Well established and has great functionality
Con: Privacy concerns... Dropbox openly states that it can access user data if they wish and share information they collect with third parties.
Pricing:
2GB - Free
2TB - €9.99/month - Personal account
2TB- €16.99/month - Family Sharing account
Enterprise plans are also available.
Nordlocker
Coming from the VPN company NordVPN, Nordlocker offers plenty for more privacy-conscious individuals. The free service can be used on as many devices as possible, making it easy to sync your files across devices. However, the free plan is only 3GB so you might feel restricted.
If you are extremely privacy-oriented, it is fair to mention that NordLocker is using ECC key, which thanks to the Edward Snowden leaks, might no longer be the safest choice in protection from the NSA. However, Nordlocker is better than MEGA in privacy and ease-of-use features, even if it hasn't been as widely adopted.
Pro: Easy to use with solid security
Con: Not open source and only has a very limited 3GB free plan
Pricing:
3GB - Free
500GB - €3.49/month
2TB - €8.79/month
Microsoft OneDrive
OneDrive is a popular cloud storage solution among professionals and students due to its native integration with Windows and Office365. It has fantastic features, especially for individuals using Microsoft apps. On the downside, OneDrive does not have any significant automatic encryption, which can potentially harm your privacy as most security features need to be manually enabled.
Microsoft is another tech giant which hasn't had the best relationship with privacy in recent years, so just like Dropbox and Google Drive, their services should only be used consciously and for collaborative works within their suite.
Another drawback is the long loading times that we experienced during testing, which makes Microsoft's OneDrive noticeably than its direct competitors Dropbox and Google Drive.
Pro: Syncs across Office365 and other Microsoft apps, making it attractive for Windows users
Con: Very little control of your data and lacks some security features
Pricing:
5GB - Free
100GB - €1.75/month
1TB with Microsoft 365 - €6.20/month or €62.00/year
Sync
Sync.com is a cloud storage provider that is simple to use, offering multiple industry-standard features and security at a reasonable price. Sync comes with end-to-end encryption across its various plans and devices for Mac, Windows, Android, and iOS. While it is not as well-balanced as others on this list, it works well with Windows and Mac.
MEGA has been a popular software for people looking for cheaper options, and Sync works well in that regard. Their 2TB plan is $2 cheaper than MEGA's, making it one of the most affordable, although a bit clumsy, services around. If you need to keep a limited amount of files secure, its 5GB free option is very appealing. You can also check a free online byte converter tool to check the amount of storage you have left.
Pro: Affordable and offers reliable encryption
Con: Third-party integration is weak and the user interface does not feel intuitive
Pricing:
5GB - Free
2TB - €8.00/month
6TB - €24.00/month
Box
Box is a cloud storage service that provides many integrations to third-party services like Office 365, OneDrive, and Google Docs. Plus, it even supports apps like Trello and Salesforce. Due to such functionality, it is the go-to cloud for enterprise customers who do much of their work virtually.
We have recently reviewed Box cloud storage, so check our article for more details!

Pro: Many integrations, built specifically for large businesses and enterprises
Con: Way more expensive than other offerings
Pricing:
10GB - Free
100 GB -  €10.00/month
Enterprise plans are also available.

The Best Mega Alternative For You?
While MEGA has a rich history, it seems like its best days are behind it. The security issues and lack of quality-of-life features leave the service falling behind most of today's stiff competition.
It is not enough to be just a big-name if you want to stay relevant in a more privacy-conscious and ever-changing world. Luckily we have many alternatives to MEGA when it comes to cloud storage services.
Privacy is of the utmost importance. As we spend more and more time online, we must ensure our personal information and data is protected. Uncompromising security and privacy combined with overall ease of use is why Internxt is our top suggestion for MEGA alternatives.