100 Funny Wifi Names For Your Home, Office, or Hotspot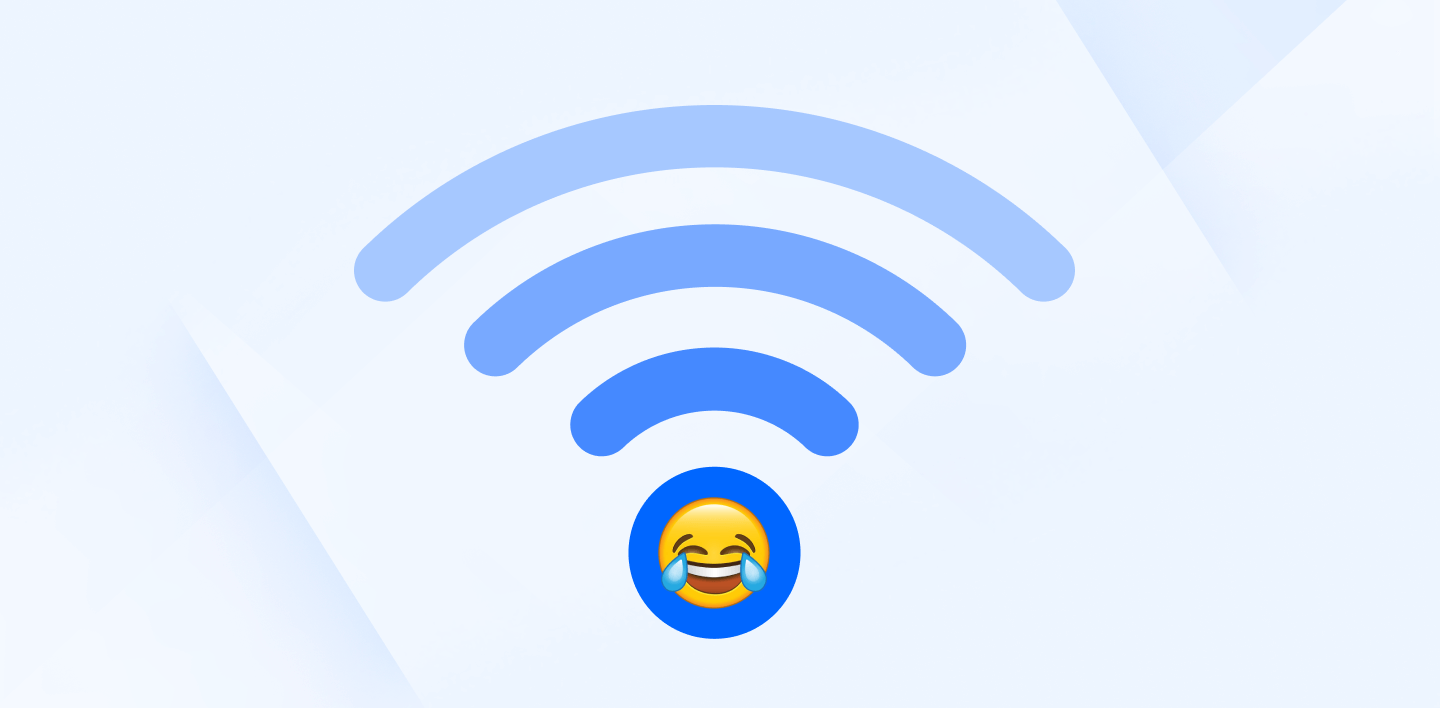 The best thing about moving into a new home is getting to call it your own. But the second-best thing is coming up with funny Wifi names you can tell your friends about. As people say, "home is where the Wifi connects automatically!" And you certainly shouldn't leave its name up to chance.
While setting up your internet is one of the first things you do after moving, simply connecting to a random scramble of characters does not feel very personal, does it? There are many ways to make sure your new home feels lived in—the posters on the walls, the pillows on the sofa... But if you ask us, funny hotspot names really tie it all together.
It's like your personal signature, which people will first see when they enter your home. Do you have a favorite movie or a TV show? Do you have a unique sense of humor and want to share it with the world? I am sure you do. So how do we make sure we stand out from everyone else on the street? Thinking of funny Wifi names for your hotspot might not be your strong suit—but it's definitely worth the effort.
Funny Wifi Names to Pick For Your Hotspot
So strap in and get ready. You might have moved, changed your internet provider, or simply want to refresh your Wifi, but no matter your reasons, here are funny hotspot names for your consideration. We have it all. The classics, the nerdy ones, the puns! From silly to downright crazy, this list is loaded with the best funny Wifi names in the world.
Best Wifi names:
Pretty Fly For a Wifi
Wu-Tang LAN
Get off my LAN!
FBISurveillanceVan
I am watching you
Making Wifi Great Again
The LAN Before Time
Drop it like it's a Hotspot
Look Ma, No Wires!
Dunder Mifflin
99 problems, but Wifi ain't one
Hot Singles in Your Area
Jesus has left the chat
Never Gonna Give You Wifi
Drop It Like It's Hotspot
Vandelay Industries
Yer A Wifi Harry
Printer Only
I Believe Wi Can Fi
404 Network Unavailable

Funny wifi names:
Free public Wifi (Just don't forget to password lock it!)
Password is password2 (And make sure the password is NOT password2!)
No Wifi connection
Trojan Virus
Funny Wifi Name
Please Connect for Identity Theft
This is Not Free Either
Network Not Found
Connecting…
Loading…
Setting up…
Rebellious Amish Family
It's on the back of the router (Don't stop them until they start looking for the router!)
It Burns When IP
No Internet Access
Saved a Bunch of Money by Switching to GEICO
IP a Lot
I Now Pronounce You Man and Wifi
Untrusted Network
Definitely Not Wifi
Cool wifi names:
Routers of Rohan
Your Friendly Neighborhood Spider-LAN
Hogwarts Great Hall Wifi
Lord Voldemodem
Go Go Gadget Internet
LANdo Calrissian
Wifi Network? Why Not Zoidberg?
One Does Not Simply Log Into Mordor
Winternet is Coming
One Ping To Rule Them All
These Are Not the Droids You're Looking For
LANnisters Send Their Regards
Accio Internet
Luke, I Am Your Wifi
Go Go Router Rangers
The Ping of the North
May the Wi-Force Be With You
Spiderman's World Wide Web
Not A Pokestop
Floo Network
"Punny" Wifi names:
Winter WonderLAN
Alice in WonderLAN
Router? I Hardly Know Her
The Silence of the LANs
Vladimir Computin
Lord Of The Pings
John Claude LAN Damme
Abraham Linksys
John Wilkes Bluetooth
Bilbo Laggins
House LANister
The Promised Lan
LAN-Rover
Bob DyLAN
Torrent Gump
LAN Morrison
Life In The Fast LAN
Theodore Routervelt
Chance the Router
Life of Wifi

Wifi names to freak out neighbors:
Extremely Slow Wifi You Don't Want to Use
I Heard the Neighbor's Wifi Is Better
I'm Under Your Bed
I Did Your Wifi Last Night
Our Internet Is Faster Than Yours
I'm Not a Witch I'm your Wifi
My Neighbors Suck
Hey, Get Your Own Wifi
Credit Card Hacker
Click Here for Viruses
Thou Shalt Not Covet Thy Neighbor's Wifi
Go Home Tourists
Not The Wifi You're Looking For
Gone Phishing
Your Curtains
Byte Me
You Won't Get Hacked Here
We've Got the Goods
Bob's Unsecured House of Wifi
NSFW
How To Change Wifi Name?
We are nearly done! After spending some time looking for cool Wifi names for your home, you now have a new challenge - actually changing it. I am sure you found yourself thinking, "how can I change my Wifi name?"
Luckily for you, it is not complicated, especially if you have reservations about tech. This can be done from a smartphone or a computer, so it is easy for everyone in the home. The changes are pretty straightforward and quick, so it should take less than 5 minutes, but we are here if you need help! By the way, here you can find the list of the best cheap routers.
One more time, go to your router and copy your router's IP address from its back.
Enter your router's IP address into your favorite browser (be it Safari, Brave, Mozilla, or any other one)
Next, enter your router's username and password to log in as an administrator. These details won't be the same as your Wifi username and password, printed on the manual you got with your router, or it will be on the router's back, just like the IP address.
Once that is done, go to settings and select an option called "Wifi Name" or "SSID." That's where you need to enter your pick for a perfect funny Wifi name.
Now click Apply or Save to make sure all the changes go into effect.
That's it! Now all you have to do is check with your phone or any other device that the changes are saved.
It did, and now you see the new Wifi name on your screen? You nailed it and deserve a pat on the back. You are now ready to invite your friends over, even if the boxes are still full. Who cares? Home is where the Wifi is. And that is more than enough to get started on a housewarming celebration.
Kiss That Boring Hotspot Names Goodbye! It's finally over. While it took some time and effort, you made it to the end. As you sit by your "America's Next Top Modem" or "Dora the Internet Explorer" and scroll around the net, subscribe to Internxt on social media for more content and news about cybersecurity.