Interview With Fran Villalba Segarra, CEO of Internxt: "We Need an Internet That Respects the User"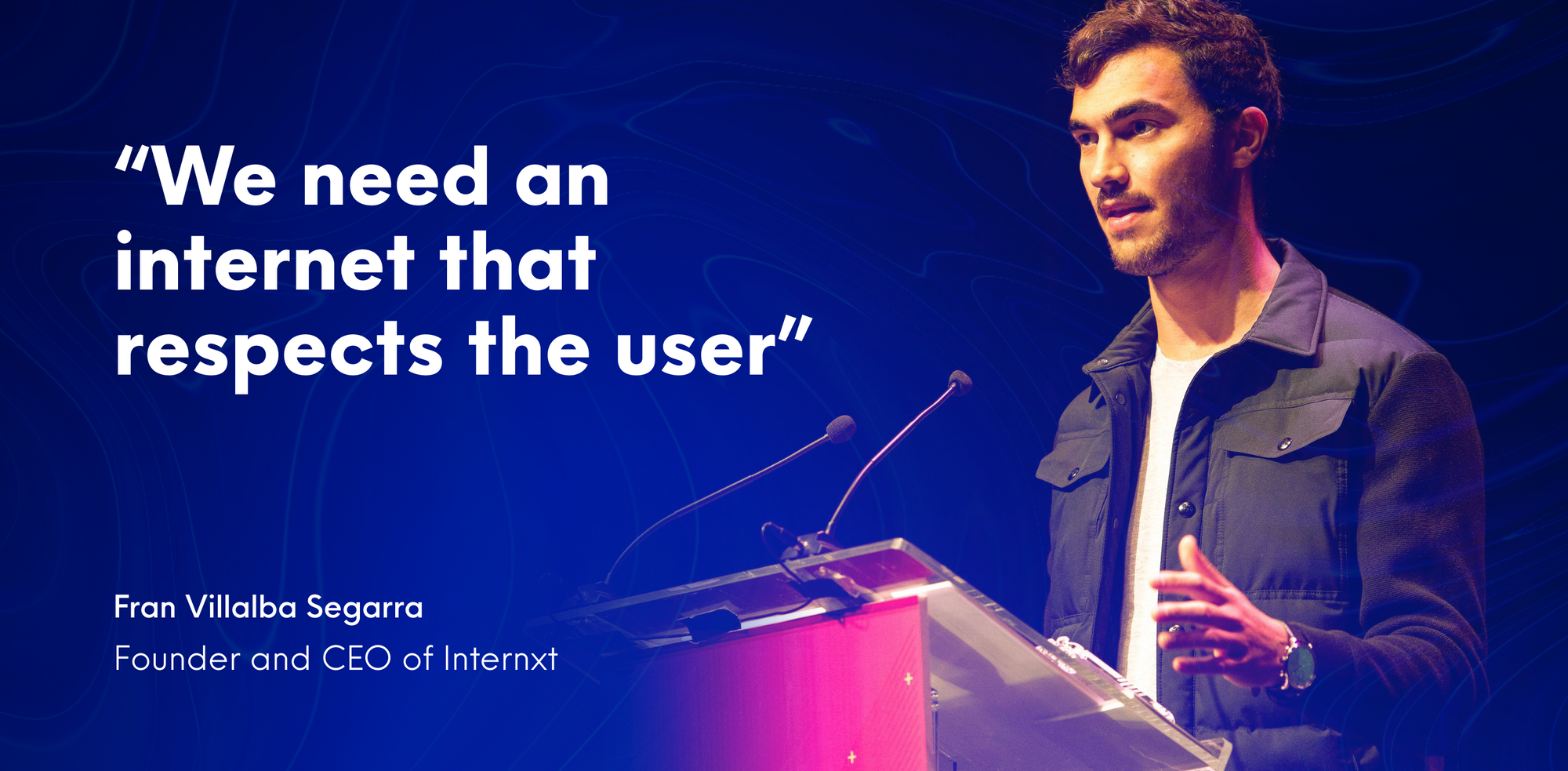 A version of this article was first published on Cybernews.
Internxt: Services Aiming To Protect Users' Fundamental Right to Privacy
With the introduction of Cloud computing services, let it be the Family photo sharing feature on iPhone or documents on Google Drive, sharing and keeping up-to-date information became easier than ever before.
All Cloud-based products require no direct resource management from the user and ultimately create one of the most popular ways to store data whether you're a scholar writing an essay or a new business owner trying to build an online shop.
Despite the convenience Cloud computing services bring, it also raises security-related issues. For example, can the service providers access your stored data or can it be breached by hackers?
To answer these questions, we've had a chat with Fran Villalba Segarra, the Founder and CEO of Internxt – a company providing zero-knowledge cloud storage services.
Tell us how it all began. How did the idea of Internxt come about?
After working for years in the cloud industry, it became glaringly apparent how much the world needed honest and truly secure internet solutions. We all hear, almost daily, about companies and users getting hacked, corporations violating privacy, blackmail and so on.
We need an internet that respects the user. An internet that's private, secure, free, and open source, one that's built and cares for the user. And that's how Internxt came into being.
Internxt's mission is to help shape a new digital world that respects privacy rights and bolsters honest and ethical conduct online. The right to privacy is fundamental, and we want to ensure it. To accomplish this, we are releasing a series of services, all sharing the common goal of protecting human's right to privacy.

Can you tell us a little bit about your Drive and Photos products? What makes Internxt stand out from the crowd?
Drive is a secure, open-source alternative to Google Drive. The difference is that the user is not the product, Internxt is. Our program is zero-knowledge, unlike currently offered "free" services. We can't access your data, only you can. Everything is encrypted and fragmented even further, only the user has the key.
Photos, to be honest, has the same security features as the Drive, as it uses the same infrastructure.
With big tech corporations like Google and Amazon, the user is the product, that's why it's free.
That's not Internxt – we're selling our service, not you. Our products are safe and secure tools for the user and creator, and nothing more.
At Internxt, you emphasize the importance of the zero-trust principle when it comes to security. Can you tell us more about this approach?
Our zero-trust principle is an extension of our zero-knowledge policy which states that we never store or transmit files, user passwords, or encryption keys in an unencrypted or unhashed form.
We've extended that commitment into our zero-trust philosophy that we adhere to across products and in all of our company-wide decisions. It boils down to our users not having to put their trust in us completely because we don't keep their information on hand. Moreover, we don't possess or own your data, you do. Internxt is a tool for the user to use, not a data bank built to make money off the user.
How do you think the pandemic influenced the way people perceive cybersecurity?
The pandemic forced everything online. Your work computer and an office are no longer a place where you would go to work. Work and online applications are in the living room, on the kitchen table, in the bedroom – now, a constant part of your life. People have realized just how much of their life is now online and how dependent they are on the virtual world.
The more time you spend online, the greater the risk of coming across cybersecurity threats. And now it's normal that they want to protect their data and themselves as much as they can.
What do you think are the best cybersecurity practices one should incorporate into their lifestyle?
Updating your phone and passwords regularly is hands down one of the best strategies for staying protected. By changing up your information on a regular basis, you essentially become a moving target for anyone wishing you ill will online, and moving targets are harder to hit.
Another great tactic is using a password manager to keep track of your multiple passwords, as they should all be different.
Also, be sure to use a trusted VPN whenever possible, especially, when using public wifi. The trick is to always be implementing the newest security strategies and technology so you always stay one step ahead of the bad guys.
When it comes to file-sharing, what bad habits do you notice most often?
Wide-open links. When you go to share a doc or photo using a link, most people just change the sharing setting to "everyone".
While this isn't a huge issue if you're sending it to one trusted colleague or friend, the risk begins to multiply exponentially with each person added to the file. Suddenly, the people you shared the doc with share it with other two friends. Then, those two share it with another two friends and on it goes on until you have no idea who's the Anonymous Rhino deleting all the data from your spreadsheet.
Since many companies are turning to cloud solutions, what are the benefits of cloud storage? Are there any disadvantages compared to storing information locally?
In the semi-post-pandemic (if it ever ends) age of remote work, cloud storage gives companies a vehicle for collaborating and sharing work from anywhere. Cloud storage also enables companies to branch out and hire talent from around the world. Before safe and secure cloud storage, many companies were forced to hire in their geographical area or import talent to remain secure.
The disadvantage of cloud storage is exactly the problems we are offering a solution for, information online is far more vulnerable than anything sent through a landline or intranet. Simply put, more entry points are harder to defend. Internxt's job is to cover those many entry points so companies and individual users can focus on harnessing the benefits of cloud storage while minimizing the risks.

Which security solutions do you think will become the next big thing in 2022?
The development of Web3 is something we are really excited about and have been keeping our eyes on. It's a new version of blockchain-based web technology that promises to give creators more agency and freedom in how they own and monetize their content.
Ultimately, it aims to create a decentralized and more equitable digital space, and that is just the kind of thing we here at Internxt want for all web users.
Would you like to share what's next for Internxt?
Over the next year, we'll be rounding out our whole ecosystem by introducing Internxt Send, a safe and discrete money transfer service, in the short term and possibly exploring an email product soon.
In the meantime, Internxt will be beefing up for growth, filling out our team with a bunch of experience and new talent.
In 2021, our user base grew more than 1000%. We expect to keep growing exponentially through 2022, setting our sights on increasing privacy awareness and empowering even more people to take the initiative to protect their data on the web.